The Texas Chapter of the Wildlife Society (TCTWS) includes wildlife managers, researchers, biologists, and other professionals who share a common goal of conserving wildlife through scientifically-informed management decisions. It aims to be an authoritative source of scientific data concerning Texas wildlife and to promote understanding about wildlife management practices. The TCTWS annual meeting is a time to present and discuss recent research, introduce students to the professional aspects of their field, and recognize notable achievements in conservation leadership. The Texas A&M Natural Resources Institute (NRI) was well- represented at the 2018 annual meeting― as a bronze-level sponsor and through NRI employees' leadership involvement, noteworthy scientific research presentations, and extension outreach efforts.  
We want to take a moment to thank our research and extension staff for their tremendous efforts in making this year's event a success. We would also like to briefly recap and highlight their work, in case you missed it!
Leadership Recognition:
Andy James served as the 2017 Wildlife Conservation Camp Chair—a camp for kids that provides a fun, educational introduction to wildlife and ecology.
Forrest Cobb was accepted into the James G. Teer Conservation Leadership Institute program. James Teer was a founding member and the first president of the Texas Chapter of the Wildlife Society, and his legacy program aims to carry on his passion for wildlife conservation through training professionals with the leadership tools and skills needed to succeed in the field of conservation.
Educational Outreach:
Kirby, NRI's resident "Reversing the Quail Decline Initiative" mascot, made a huge impact on conference participants as they visited our information booth. NRI extension associate Amanda Gobeli handed out teaching materials, discussed topics related to Texas quail species and their habitat needs, as well as answered any quail questions posed.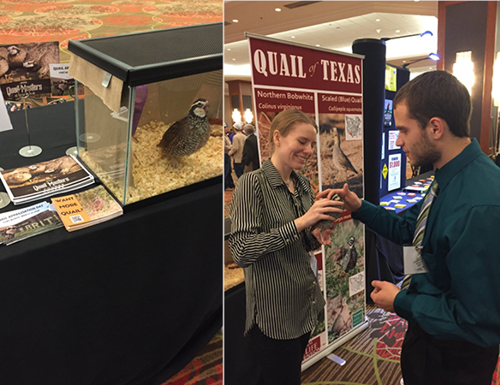 Kirby quail & Amanda Gobeli are great ambassadors for quail conservation and bring attention to research & outreach efforts of the Reversing the Decline of Quail in Texas
Research Presentations:
The Influence of Age Structure on Pairing and Territory Success of an Endangered Songbird
Drew Finn reported that the reproductive and territorial success of golden- cheeked warblers (Setophaga chrysoparia) may be affected by their age.
Baseline Activity of Cave Myotis Colonies Prior to the Arrival of White-nose Syndrome
Baseline Data on Overwintering Bats and Roots in Texas
Melissa Meierhofer and Lilianna Wolf presented two studies on bats that provided wildlife managers with baseline information on the health of bat colonies in Texas. That data is increasingly important amid growing concerns about White-nose syndrome. 
Naturalization of North American Porcupines in Texas, Effects of Rangeland, and Management Techniques
Dr. Andrea Montalvo spoke about North American porcupines (Erethizon dorsatum) and the expansion of their range.
Potential Strike Hazard Posed by White-winged Doves to Military Aircraft in Central Texas
Dr. Melanie Colón recommended management practices that could prevent white-winged doves (Zenaida asiatica) from damaging military equipment and harming pilots during flights.
Using Acoustic Monitors to Assess At-risk Species in Survey Locations with Limited Access.
Sarah Turner's presentation on acoustic monitors showed the benefits of this technology being used to monitor species in areas with restricted access, such as military landscapes.
Phylogeographic Structure of Spot-tailed Earless Lizards: 1 Species or 2?
Home Range and Habitat Associations of the Spot-tailed Earless Lizard
Dr. Toby Hibbitts presented scientific evidence that two subspecies of spot-tailed earless lizards from genus Holbrookia are actually two distinct species. Danielle Walkup studied the movements and home ranges of these lizards in Texas so management recommendations can be made for the future.
An Evaluation of Dummy Nests for Northern Bobwhite Management
Trenton Dragon discussed dummy nests and the reasons why they aren't a reliable source for estimating nest success of northern bobwhites (Colinus virginianus) or determining the culprit of nest predation.
Demonstration of a Multi-species, Mutli-response State-and-transition Model Approach to Help Inform Wildlife Management
Dr. Ashley Long, now at Louisiana State University, discussed the different ways fire disturbance can positively and negatively impact golden-cheeked warblers and black-capped vireos (Vireo atricapilla), and offered strategies for its effective use.
Evaluation of Distance Sampling and Occupancy Modeling as Targets for a Long-term Monitoring Program for Bird Populations
Dr. Jeremy Baumgardt's presentation focused on detecting long-term effects of various grazing strategies on dozens of native vertebrates.
Share this post
---
Learn More