The 56th Annual Meeting of the Texas Chapter of the Wildlife Society (TCTWS) wrapped up in Corpus Christi last week, with many of our NRI team members assuming active roles in the conference as exhibitors, presenters, and leaders.
The first day of the meeting always begins with a variety of continuing education workshops and the NRI team took full advantage of this opportunity to improve their professional skills. Drew Finn and Stephanie Martinez each learned more about using wildlife acoustics in their research; Drew focused on birds and land animals and Stephanie focused on bats. Andrea Montalvo and Jim Peterson took a crash course on the basics of R and navigating R Studio. Krysta Demere learned how to work effectively with landowners as a natural resource professional. Lastly, Shelby McCay attended Nature Photography 101 and was able to practice her new skills at the Oso Bay Wetland Preserve.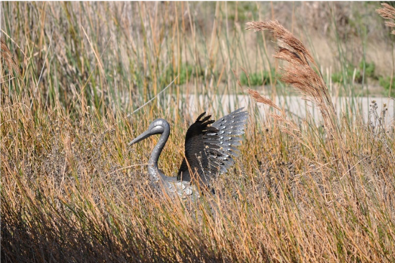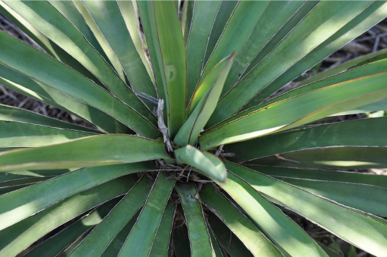 Left: Crane statue at the Oso Bay Wetlands Preserve visitors center. Right: Yucca found on one of the many trails at the Oso Bay Wetlands Preserve.
Visitors to the exhibition hall would have found it hard to miss our booth, which was adorned with "skulls and skins"—a collection of animal pelts and skull models used for teaching. Bonnie Blue, our blue quail ambassador for the Reversing the Quail Decline Initiative, was also there to give folks a unique 1-on-1 interaction with Texas wildlife. New to our booth experience this year was a scavenger hunt activity that asked players to explore our Private Land Stewardship online lessons. Anyone who completed the worksheet and returned it to us was entered into a drawing for an NRI tumbler, a copy of Applied Wildlife Habitat Management and a great piece of artwork, courtesy of our own Shelby McCay.
Although the prizes have been awarded, you're still welcome to try your hand at the scavenger hunt if you like—you can find the worksheet here.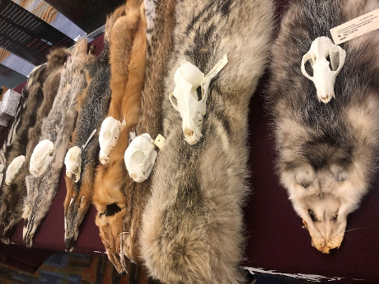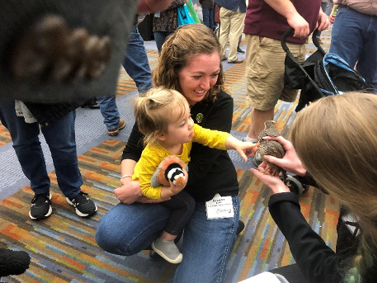 Left: Skulls and skins are an eye-catching addition to the NRI booth. Right: Bonnie Blue helps inspire the next generation of quail conservationists. 
Anyone who has been to a TCTWS meeting knows that science is a huge part of it, as researchers from across the state gather to share their latest work. NRI was well-represented on this front, with 10 presentations (papers and posters). Lecture topics ranged from artificial burrows for burrowing owls, to the use of drones in rabbit pellet surveys, to survey methods for the western chicken turtle. Our poster presenters covered several species including golden-cheeked warblers, desert massasauga rattlesnakes, and spot-tailed earless lizards, in addition to other topics. If you'd like to learn more about any of these projects, check out the list at the end of this article, which features citations with relevant page numbers in the program booklet.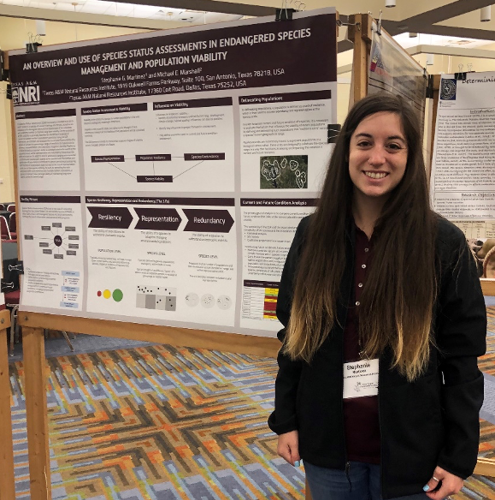 Stephanie Martinez poses in front of her poster describing Species Status Assessments (SSAs) and their role in the management of endangered species.
Conservation leadership—both current and future—is another defining theme of the Texas Chapter meetings, and it's a priority for us as well. Forrest Cobb represented NRI on the TCTWS Steering Committee as the subcommittee chair for the Cottam Awards, a competition that challenges graduate students to present their research. Andy James continued his tenure on the Wildlife Conservation Camp Committee, and Samantha Leivers served as a poster judge.
As an investment in the future, NRI was proud to send three of its members to the James G. Teer Conservation Leadership Institute, a year-long course organized by the Texas Chapter which aims to turn early-career wildlife professionals into conservation leaders. Over the course of 4-5 sessions, our Teer students—Mallory Eastland, Amanda Gobeli, and Alison Lund—will hone the skills needed to take on big challenges in conservation; skills like public speaking, critical thinking, and people management.
The 2020 class of the James G. Teer Conservation Leadership Institute.
A highlight of any Texas Chapter meeting is the award ceremony. It's an opportunity to recognize a wide range of accomplishments in the wildlife conservation community, from artistic talent to leadership prowess. Three of our members, Krysta Demere, Audrey Holstead and Joseph Richards took home ribbons in the photo and art contest: Krysta for her drawing of a ram (3rd place), Audrey for her photo of a prairie falcon (3rd place) and Joseph for his variety of wildlife and plant photos (three 1st places, three 2nd places and the Judges Choice award). Joseph was also the recipient of the Charly McTee Memorial Scholarship. The Reversing the Quail Decline Initiative was also recognized with an Outstanding Achievement Award acknowledging more than 5 years of quality in-person programming, articles, videos, newsletters, online lessons, and a semi-annual statewide symposium. Finally, in recognition of decades of service as a wildlife specialist, mentor, researcher, and overall hero of conservation, Dr. Dale Rollins (recently retired from NRI) was granted the Honorary Life Membership award.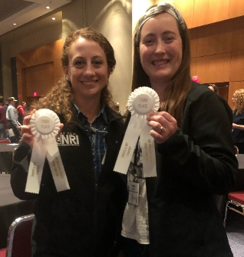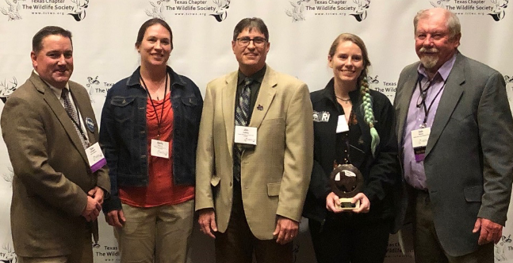 Left: Krysta Demere and Audrey Holstead with their ribbons from the photo and art contest. Right: (In order from left to right) Texas Chapter President Tyler Campbell and members of the Reversing the Quail Decline Initiative team Becky Ruzicka, Dr. James Cathey, Amanda Gobeli, and Dr. Dale Rollins.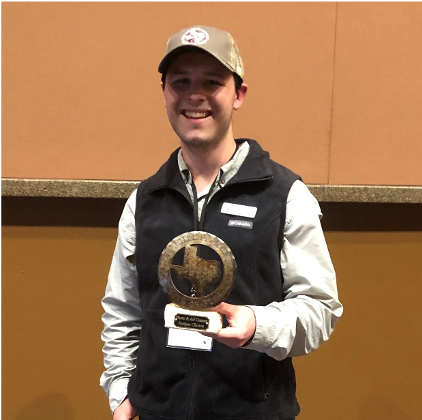 Joseph Richards with his Judges Choice award for his photograph of a bee and bluebonnet.
We are so proud of all the leaders, volunteers, researchers, artists, and others who served as representatives of NRI at the Texas Chapter meeting this year. We always leave this event feeling inspired, and we are already looking forward to what next year will bring.
You can find the abstracts for the following presentations in the TCTWS Long Program.
Our Paper Presenters Included:
Brandon Bowers

An Evaluation of Western Chicken Turtle Survey and Capture Methods, Brandon Bowers; Danielle Walkup; Toby Hibbitts; Paul Crump; Wade Ryberg. P 60.

Audrey Holstead

A Perfect Home: Designing an Effective Artificial Burrow for the Western Burrowing Owl in the Absence of Fossorial Mammals, Audrey L. Holstead; Sarah J. Turner; Francisco A. Cartaya; David L. Rizzuto; Brian L. Pierce. P 67.

Andrea Montalvo

Evaluating the Practicality of Unmanned Aerial Vehicles for Rabbit Pellet Surveys, Andrea E. Montalvo; Israel D. Parker; Brian L. Pierce; Ian T. Gates; Audrey Holstead. P 57.

Sarah Turner

Preliminary Occupancy and Nesting Success Rates of Western Burrowing Owls Utilizing Artificial Burrows in the Tularosa Basin, Sarah J. Turner; Brian L. Pierce; Francisco A. Cartaya; David L. Rizzuto; Allison S. Harvey; Krysta D. Demere; Audrey L. Holstead; Brandon Bowers. P 47.

Danielle Walkup

Habitat Forecasting for the Western Massasauga: Implications for Current and Future Populations, Danielle Walkup; A. Michelle Lawing; Wade A. Ryberg; Toby J. Hibbitts. P 59.
Our Poster Presenters Included:
Corey Fielder

The Delineation of Two Subspecies, the Desert Massasauga and the Prairie Massasauga: A Problem That Must Be Addressed, Corey Fielder; Danielle Walkup; Toby Hibbitts; Michelle Lawing; John Jacisin; Andrew DeWoody; Rian Bylsma; Leland Pierce; Paul Crump; Brandon Bowers; Wade Ryberg. P 133.

Drew Finn

Geographic Variation in Golden-cheeked Warbler Song Characteristics, Drew S. Finn; Ashley M. Long. P 102.

Stephanie Martinez

An Overview and Use of Species Status Assessments in Endangered Species Management and Population Viability, Stephanie G. Martinez, M.Sc.; Michael E. Marshall, M.Sc. P 138.

Wade Ryberg

Searching for a Needle in a Haystack: Using Computer Algorithms to Detect Reintroduced Louisiana Pinesnakes Captured With Camera Traps, Wade A. Ryberg; Danielle K. Walkup; Emlyn B. Smith; Josh B. Pierce; James Childress; Forrest East; Corey Fielder; Price Brown; Brian L. Pierce; Toby J. Hibbitts. P 142.

Danielle Walkup

Out in the Open: Habitat Use, Movements, and Home Ranges in the Spot-Tailed Earless Lizards, Danielle K. Walkup; Wade A. Ryberg; Jarret Kachel; Connor Adams; Shelby Frizzell; Timothy Johnson; Dalton Neuharth; Toby J. Hibbitts. P 146.
Share this post
---
Learn More