As a new landowner, it is crucial to keep wildlife top-of-mind when developing land management plans. This requires knowing which species are present on a particular tract of land, as well as understanding the relationship each species has with its habitat and the ways in which it sculpts the landscape. This is essential knowledge for any land steward who wants to support native Texas wildlife while pursuing other management goals. Not all wildlife contributes equally to improving the quality of the land, however. High biodiversity of native Texas species at balanced population levels is far more desirable than invasive species which overrun and outcompete natives for critical resources. A great place for new landowners to begin their journey as a student of wildlife is by identifying which species, whether native or introduced are present on their land, and learning which management techniques are best for supporting the desired flora and fauna.

Identification Resources
Expert and citizen science wildlife identification resources can be equally valuable to landowners searching for reliable information. Our favorite resources include a mixture of both: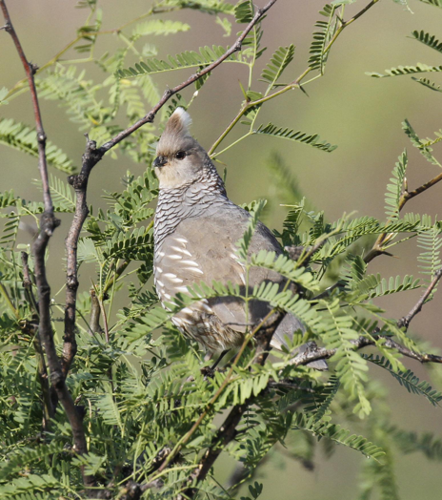 A scaled quail (Callipepla squamata). Photo by Robin Agarwal (CC BY-NC 2.0).
Additional Resources
            The resources above will help you identify which species are present on your land; the ones below will help you put that knowledge to practical use with management techniques that aim to encourage the health of native populations while mitigating the negative impacts of invasive ones.
Invasive Species:
Introduced, or exotic, species are those which are living outside of their native range often directly or indirectly because of human activity; invasive species are introduced species that cause significant ecological or economic harm.
NRI's Wild Pigs Website - Wild pigs one of the most destructive and prolific invasive animals in Texas and can cause widespread ecosystem damage if left unchecked. Our website provides extensive resources on how to deal with the wild pigs on your property including program information, publications, and more.
Texas Invasives - This page provides thorough background information on the biggest Texas invaders, practical solutions on how to handle these unwanted species, and an extensive list of resources.
USDA's Animal and Plant Health Inspection Service - The U.S. Department of Agriculture's invasive species resource page provides additional background information and species-specific management suggestions.
 Native Species:
Native species are those which are living within their natural range.
NRI's Reversing the Quail Decline Initiative Website - Our website includes all the information needed to become a steward of quail, including blogs, YouTube videos, newsletters, links to our social media where we answer all of your quail questions, and more. Quail share many habitat requirements with other native species, so managing land for quail also benefits other wildlife like grassland songbirds, reptiles and small mammals.
Private Land Stewardship Lessons - NRI's new suite of interactive, online lessons covers a range of wildlife and landowner topics - and even more lessons are currently being developed.
Texas A&M AgriLife Extension - The TAMU Wildlife Management page provides life history information, conservation and management suggestions, and publications for the most popular game species in Texas.

AgriLife Online Learning New Landowners Course — This course introduces new landowners to potential uses of their new property and some basic land management strategies to accomplish their goals in the areas of wildlife, livestock, forages, and sustainability.
Establishing a robust knowledge of the species in Texas is a critical first step in wildlife management. Using the base of knowledge gained from these resources, landowners can work with wildlife professionals to create wildlife management plans, and even begin the switch from an agricultural tax valuation plan to one focused on wildlife. Wildlife are an irreplaceable part of every Texas ecosystem and, with proper species management, can be an excellent tool for improving the health and value of the land.
Share this post
---
Learn More