We have previously discussed the importance of knowing the plants that are growing on your land, understanding your soil, and managing your property well. There are many resources you can access to expand your knowledge of the species in your area, but few are more accessible than those on your phone. As citizen science continues to expand with the help of technology, apps are being developed with the sole purpose of helping amateur naturalists and landowners identify and better understand the plants and animals on their property.
One such program is iNaturalist, an app that allows anyone across the world to document local biodiversity and educate themselves on the species in their area. To get started, simply take a photo of a plant or animal you encounter and iNaturalist will automatically make a suggestion of the species identity based on previous sightings and the species that are commonly found in your area. The identity can be corroborated by other users and your observation will be labeled "research grade" if over 2/3 of users agree on the species. Aerial maps allow you to see nearby observations, and the guide feature allows you to access field guides identifying anything from "Birds of Texas" to "Herpetofauna of Honduras". You can also create your own field guide specific to your property and keep a running list of the species you encounter.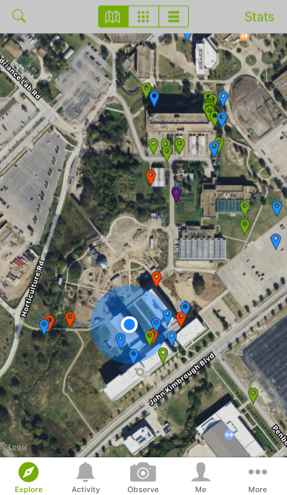 The iNaturalist explore page allows you to see nearby observations other users have made.
iNaturalist sponsors projects like the City Nature Challenge, an annual competition between major cities around the world to document the most local biodiversity. Amber Leung, the Texas A&M AgriLife Extension Service 4-H program coordinator in the Fort Bend County AgriLife Extension office and the president of the local chapter of Texas Master Naturalists is an iNaturalist pro with hundreds of personal observations. Leung and 14 members from the Coastal Prairie TMN Chapter participated in the City Nature Challenge for the Houston area from April 27-30, 2018 and the results did not disappoint. Their chapter made 1,283 observations, identified 894 species, and observed 25 unique species that weren't found by any other challenge participants. Houston finished in second place out of 63 cities in the world for the most species observed with 3,099 species and boasted over 22,500 observations.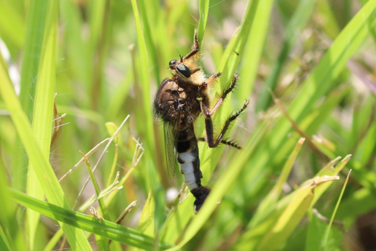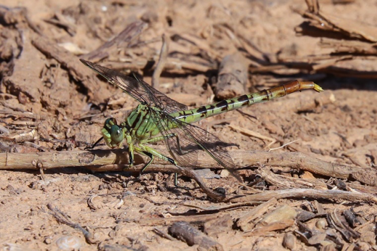 The Coastal Prairie Chapter of the Texas Master Naturalists observed many unique species during the 2018 City Nature Challenge including the robber fly (Efferia snowi) (left) and jade clubtail (Arigomphus submedianus) (right). Photos by Amber Leung.
Leung personally placed 105th in the world for her observations in the City Nature Challenge and has identified many unique species in her locality with the help of plant expert and TMN volunteer Susie Doe. iNaturalist has made it easier than ever to gain knowledge of the species on your property by consulting local experts as well as other citizen scientists. iNaturalist is an excellent tool for taking the first step in learning about your land and what species are utilizing it so you can make invaluable management decisions to improve plant and animal life on your land.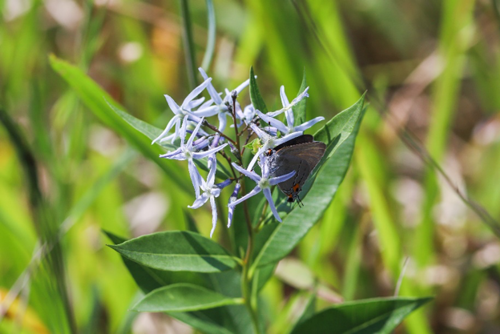 A creeping bluestar (Amsonia repens) and a gray hairstreak butterfly (Strymon melinus) found during the 2018 City Nature Challenge. Photo by Amber Leung.
Leung's profile is a great example of how using iNaturalist is as simple as going outside, taking some photos, and developing your own collection of observations. Even if you are not a Master Naturalist, iNaturalist can connect you with a community of experts to help you identify anything from grass to bird species. Download iNaturalist here to begin compiling your own observations and expanding your knowledge of the biodiversity in your area.
Share this post
---
Learn More