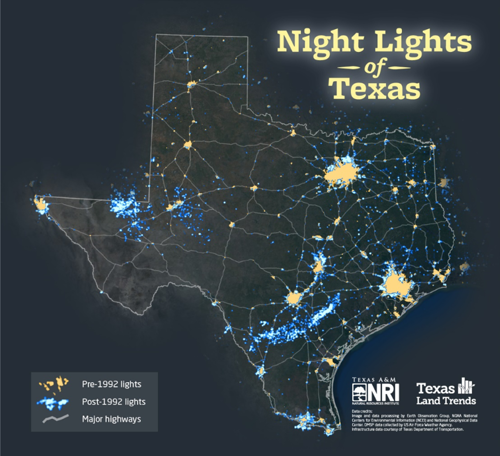 Map: Nighttime illumination of Texas.
Through our Texas Land Trends project, we have been tracking and telling the story of rural land use changes and trends across the state for the past few decades. Using remotely sensed data, we can better illustrate these changes; especially those related to urban and energy industry growth. Nighttime illumination imagery from the Earth Observations Group at NOAA/NCEI are ideal for detecting location and patterns of dense human development due to the artificial light signature produced by a wide range of sources, such as city street lights or gas flares at industrial plants and oil or gas production sites. This month's featured map depicts the dramatic increase of light sources since 1992, the first year illumination imagery became available.
Urban Growth
According to a 2017 U.S. Census Bureau study, Texas leads the nation in population growth with seven of the 15 fastest growing cities in the U.S. As the state's population expands, so will the demand for rural lands, particularly within or surrounding urban centers. Concentrated population growth results in a significant influence on rising land values, changing land ownership sizes, and ultimately the conversion of rural land to a non-agricultural use (e.g., farm to residential development). This growth pattern is illustrated in rural areas neighboring metropolises like Austin, Dallas/Fort Worth and McAllen-Edinburg-Mission.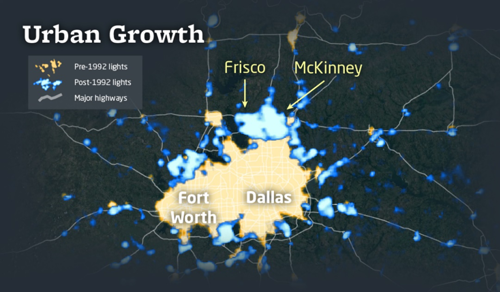 Map: Recent population growth in suburbs surrounding the Dallas/Fort Worth area are easily identifiable due to the increase in light sources.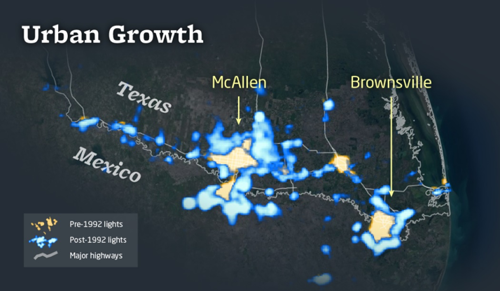 Map: Similar to the Dallas /Fort Worth area, signs of expanding population are apparent on both sides of the Texas-Mexico border near McAllen and Brownsville, Texas.
Energy Development
The combination of rising energy demands and natural gas and crude oil availability in Texas have contributed to the substantial increase in industry development over the past decade; pre-dominantly in the Permian Basin of West Texas and the Eagle Ford Shale in South Texas. Bright lights used at well pads as well as gas flares highlight the increased drilling activity in these areas. While this type of develop does not consume rural lands in the same manner associated with population growth; pad sites, roadways and pipelines that are emerging throughout these rural regions may result in the fragmentation of wildlife habitat or influence the management of rural lands in other ways.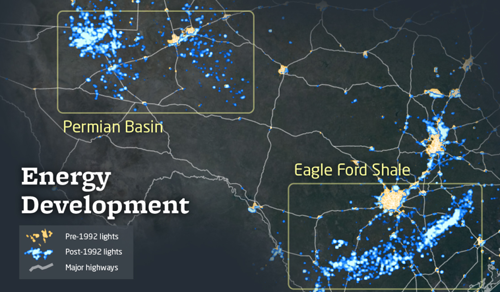 Map: The Permian Basin region and the southern portion of the Eagle Ford Shale have experienced a significant increase in light sources over the past few decades, attributed to oil and natural gas production.
Human development can be challenging to sustaining our state's rural lands and associated natural resources, both directly and indirectly. While illumination imagery does not provide us a quantitative measure of landowner changes or acreage dedicated to wildlife and agricultural uses, it does help to paint the picture of rapid and regional changes taking place in Texas. As stewards of wildlife and rural lands, such information can help describe and begin conversations about complicated issues; such as the increase in impervious surfaces that affect water quality and quantity or stream flow, the potential effects of increased light sources to wildlife breeding, or the break-up of wildlife habitat and subsequent creation of fragmented wildlife populations stemming from land development activities, to name a few.
--
The Texas A&M Natural Resources Institute grants permission for authors, readers and third parties to reproduce and republish materials from its blogs, publications and online products through permission requests to NRI Communications at nri@tamu.edu. This includes the use of figures, maps, photography and video media. If you have questions about permissions, please contact Brittany Wegner.
Share this post
---
Learn More