Historically, longleaf pine ecosystems were the dominant forest type across the Southeast United States. Unfortunately, fire suppression and changes in land use have now reduced longleaf acreage to less than 5 percent of its original extent.
To restore these legacy forests, NRI is working with the America's Longleaf Restoration Initiative—a coalition of federal and state agencies, non-profit organizations, forest industry, private landowners, and other stakeholders. The initiative's objective is to restore healthy and viable longleaf pine forests to the landscape, along with the full spectrum of cultural, ecological, economic and social benefits produced by this important ecosystem.  
Protection and restoration of longleaf pine forests will provide valuable habitat for wildlife; clean air and water for communities; economic opportunities for landowners through timber harvest; and stronger military readiness through compatible land uses near military test and training facilities.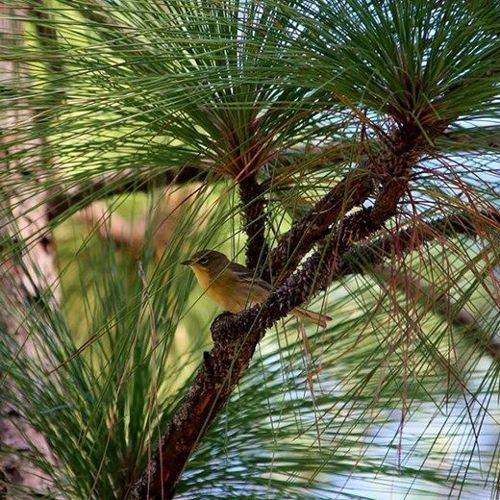 Pine warbler in longleaf pine at Sandyland Sanctuary by Rachel Rommel
Representing the initiative's efforts in Texas, the Texas Longleaf Taskforce is a group of individuals, organizations and agencies working to restore longleaf pine ecosystems on private and public forestlands in the state of Texas. In March, the taskforce launched an outreach campaign to grow awareness of longleaf restoration efforts and to encourage landowners in East Texas to connect with their team of specialists to find out more about longleaf, cost-share programs, technical assistance, and partnering opportunities. Through this campaign, the taskforce is empowered to measure the efficacy of new digital outreach methods, and compare the return on investment of resources to restoration results.
Phase one of this campaign is currently appearing in the Facebook feeds of landowners in the East Texas region who may be interested in land management and longleaf restoration. For the landowners who are interested, with a series of brief questions, landowners are voluntarily submitting their contact and land information through a form the taskforce created to connect landowners to the right specialist.
Building and strengthening relationships with a network of well-informed landowners is the foundation to a more resilient outreach program. Furthermore, this new initiative will cultivate a community of forest landowners looking to preserve heritage, working forests, wildlife habitat and biodiversity with the longleaf pine ecosystem. 
--
The Texas A&M Natural Resources Institute grants permission for authors, readers and third parties to reproduce and republish materials from its blogs, publications and online products through permission requests to NRI Communications at nri@tamu.edu. This includes the use of figures, maps, photography and video media. If you have questions about permissions, please contact Brittany Wegner.
Share this post
---
Learn More