By Andy James, Texas A&M Natural Resources Institute
The use of prescribed fire as a land management tool can be traced back to Native Americans and some of the earliest American settlers who used the practice to reduce brush and timber, to provide land access, and improve hunting. The list of benefits of prescribed fire is lengthy. Prescribed fire encourages new growth of native vegetation, improves grazing by increasing palatability, quality, and quantity of grasses and forbs. Deer, quail, and many other wildlife species respond positively to changes in the plant community, and the potential for devastating wildfires can be minimized by reducing excessive fuel loads.
Texas A&M AgriLife Extension Service has developed a variety of resources, including a phone application to assist those with an interest in prescribed burning.

Rx Burn Available on iTunes
The RxBurn app is an essential resource that provides information on planning a prescribed burn, burn boss roles and duties, safety, weather, and fire behavior. The app also provides a one stop shop for education videos, helpful websites, and published materials related to prescribed burning.
Whether you are a Certified and Insured Prescribed Burn Manager with years of experience, or a new landowner considering prescribed fire as management tool for your property, RxBurn will provide valuable information leading to a safer and more effective prescribed fire.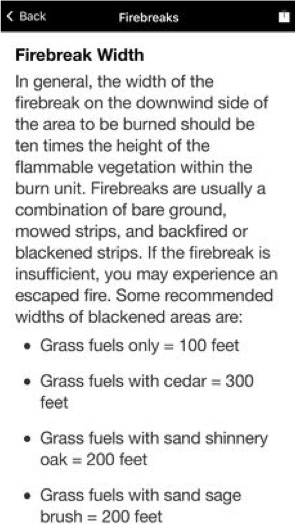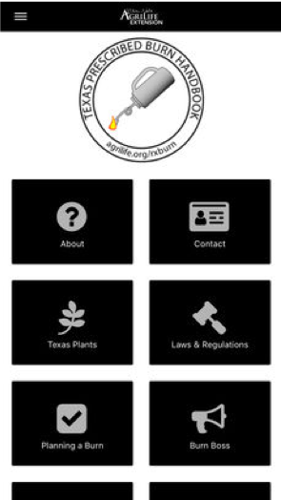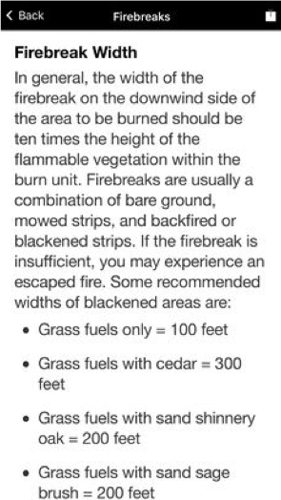 The RxBurn app provides information on laws and regulations associated with burning, how to plan a prescribed burn, and other resources that a burn boss may find helpful.
Other Prescribed Fire Resources
The YouTube video series Living With Fire is a great resource with 24 short videos covering topics from drip torch safety, fire weather, sprayer rigs, and wildfire mitigation. There are also several publications including Prescribed Fire Burning in Texas, Planning a Prescribed Burn, and Conducting Prescribed Fires: A Comprehensive Manual.
Great Plains Prescribed Fire Summit
The Texas A&M Natural Resources Institute, along with Oklahoma State University and the Noble Research Institute will be hosting the Great Plains Prescribed Fire Summit, October 1-3, 2018 in Ardmore, OK. The summit will cover a variety of topics including how to form a prescribed burn association, developing a burn plan, prescribed fire benefits on wildlife habitat, liability issues and a tour that will include a prescribed burn.
Share this post
---
Learn More