"In the vast Wild Horse Desert of South Texas lies one of the most storied ranches in the Lone Star State, yet one of the most isolated and remote. The 150,000-acre San Antonio Viejo, carved out of borderland thornscrub and amassed from Spanish land-grant tracts over more than a century, embodies an extraordinary ecosystem and a rich human history known by few."
The  East Foundation is one of our institute's long standing partners, with likeminded research goals of wildlife conservation and private land stewardship. Often times we are fortunate enough to partner on special projects, like East's Horses to Ride, Cattle to Cut: The San Antonio Viejo Ranch of Texas book, where NRI's geospatial lab created maps featured throughout the text. September's Map of the Month blog highlights one of those maps, depicting South Texas as it was more than a century ago.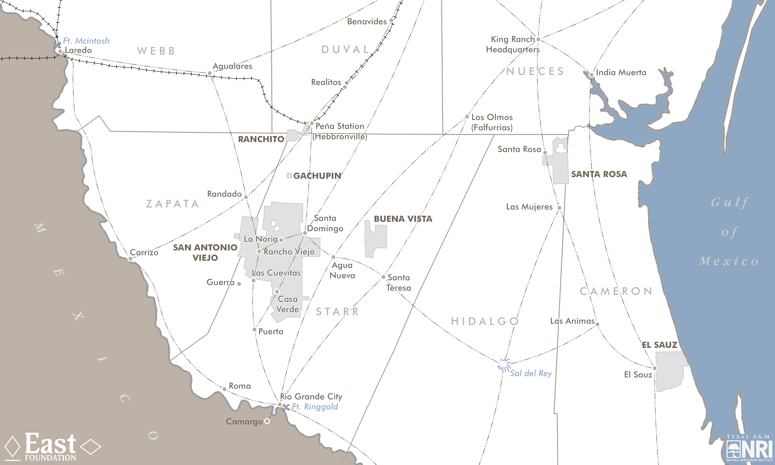 Map created by Matthew Crawford.
Through rich descriptions and detailed historical maps, the book paints a vivid picture of the San Antonio Viejo Ranch (East's flagship property), taking the reader back in time to explore its long, rich history, such as its ties to the King Ranch, as well as describing the ranch as it is today. By scanning, digitizing and combining two historical maps, the first named San Patricio District created by a German surveyor in 1870 and the second named Rio Grande Frontier created by a lieutenant from the 3rd Calvary Division in 1892, our geospatial lab was able to accurately recreate the locations of ranches, rancheros and cattle trails as they were in the late 1800s. The map featured in this article illustrates East Foundation properties with current and historical communities, old cattle trails and late 19th century county boundaries.
Share this post
---
Learn More