The Statewide Quail Symposium, held Aug. 16-18 in Abilene, Texas, was part of an education and research effort to convey activities of the Reversing the Decline of Quail in Texas initiative. This gathering brought together experts in the fields of quail management, research and conservation from all over the state. The symposium had 28 speakers with 248 people attending, some new to the land and some long-time landowners. 
A field day started the event where rancher and wildlife enthusiast Rob Hailey welcomed us to his ranch to see quail management strategies in action and to learn techniques for evaluating quail habitat. Instructors included graduate students, QuailMaster graduates and wildlife professionals. Hailey was very generous for allowing us to come to his ranch and learn of his efforts that are making positive impacts on the land. 
Following the field day, participants enjoyed a series of engaging presentations from speakers with a wide range of backgrounds, including current land managers, research scientists and state agency professionals. Dr. Doug Steele, Texas A&M AgriLife Extension Service director, welcomed the crowd and was joined by Kelly Thompson, Texas Parks and Wildlife Foundation chairman, who told us to anticipate the addition of a new western quail coordinator for the Texas Parks and Wildlife Department (TPWD) and a bobwhite license plate for vehicles. The hope with these additions is to bring focused attention to quail needs in West Texas and generate conservation funding.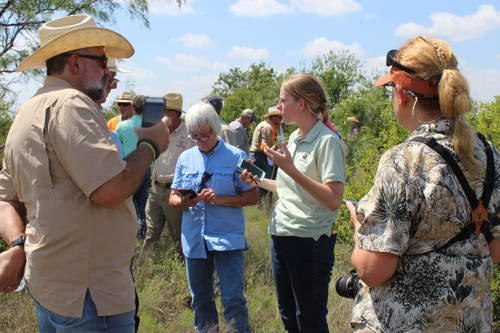 NRI Extension Associate Amanda Gobeli explains the Northern Bobwhite Habitat Evaluation app at the Statewide Quail Symposium.
Deborah Clark of the Birdwell and Clark Ranch shared about her family's dedication to holistic management of their property, where they mix livestock and wildlife management. Later, Ty Bartowskewitz, wildlife biologist and manager of the MT7 Ranch, and Chip Ruthven, area manager of TPWD's Matador Wildlife Management Area, each reinforced points made by Clark, as they spoke on management objectives and actions on private and state-owned property. 
Our point and counter-point presentations generated many smart points and a few sharp jabs as presenters debated topics such as invasive plants and quail, the self-regulating nature of quail hunting and translocation of wild birds. Graduate students and professors presented research supported by the quail initiative. Initiative-funded work includes translocation, predation by red-imported fire ants, GPS tracking and habitat needs, genetics, grazing and pasture recovery, pesticides, and parasites — the body of work was impressive. 
Throughout the three-day event, the mood was light given a series of good quail years and there was laughter and camaraderie among new and old friends during the event. Many participants said they enjoyed getting to know one another and share experiences in land and quail management. 
One participant wrote to say: 
"Compliments to you and your team on the completion of a successful Texas Quail Symposium. The line-up of presenters was impressive. Meeting Rob Hailey and touring his ranch was inspiring. The work of all of the folks that facilitated (both in the forefront and in the background) was very apparent and resulted in a well-run program. For me the opportunity to network with not only researchers but also land managers and other landowners was quite valuable."
This sentiment captures the symposium, and it was impressive to see the large attempt to bolster quail populations in our state — an amazing collective effort.
Read more about the Reversing the Decline of Quail in Texas in this AgriLife Today article and visit its Facebook page. Other quail management information can be found here.
Share this post
---
Learn More