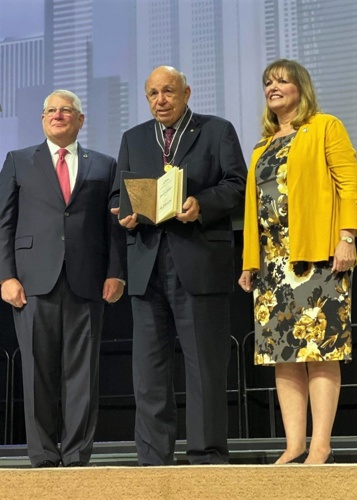 WASHINGTON, D.C. — An Army Reserve ambassador stood before a massive crowd of Army senior leaders to receive a medal named after his own personal war hero.
Col. Olin Findley Brewster, who retired from the military but still serves today as an Army Reserve ambassador in Texas, received the Maj. Gen. James Earl Rudder Medal in Washington, D.C., Oct. 14, 2019.
Among his accomplishments, Brewster is known for his compassion for the community and was instrumental in the creation of the Minuteman Scholarship.
The award he received also happens to be named after the man who signed Brewster's own college diploma.
Brewster's military journey began by commissioning as part of the corps of cadets at Texas A&M University in 1966. Throughout his 29 years in the active Army and Army Reserve, he held a variety of positions at almost every level and excelled in each one.
However, it was his hard work and determination throughout the years since putting the uniform away that had him recognized before an enormous crowd at the Association of the United States Army's (AUSA) 2019 annual meeting.
The Maj. Gen. James Earl Rudder Medal, established in 1999, pays homage to an officer who was a proven war hero known for taking chances. As a lieutenant colonel, Rudder took part in the Invasion of Normandy and commanded forces at the Battle of the Hurtgen and led a series of action and ambushes during the Battle of the Bulge.
Rudder also was known for ideas that often went against popular opinion. His is a former president of Texas A&M who never swayed from his decision to open the university to women despite negative reaction, and since 1963 women have been able to attend one of the largest universities in the United States.
The medal is awarded annually to a Soldier who has served or is currently serving in the United States Army Reserve and has contributed most to the improvement of AUSA's goal of a seamless and component-integrated Army.
This year, the award went to a man who has called Rudder a hero of his for many years. Brewster says he's lived his life trying to do right by him, and his peers say he's definitely doing so, calling the Army Reserve Ambassador the perfect advocate for Soldiers.
"He's tireless … hardly anybody can keep up with him," said Phil Stage, a California Army Reserve Ambassador who has known Brewster for more than 20 years. "Wherever he goes, he's finding out what he can do for Soldiers."
Stage said Brewster is known as Mr. Army all over Texas, and that he is always hard at work.
"His best trait is his ability to lead," said Stage. "His influence extends beyond the readiness divisions."
Brewster is responsible for improving several programs that have been instrumental in creating new lanes for Army Reserve Soldiers to work with the general public.
He says that one day, during a luncheon in San Antonio, a gentleman stood up and discussed his efforts with the Texas A&M Colonias program.
"I'd never heard of them," said Brewster. "I couldn't believe it … I've been a Texan all my life, and I never heard of the Colonias."
Brewster says the Colonias are small communities of approximately 500,000 people living outside city limits. The communities, most of which exist in third-world conditions, span across 1,200 miles on the United States border.
"I immediately got to thinking about nation building," said Brewster. "I said, 'That's not possible. I would have heard about something like that if it was happening in Texas.'"
That luncheon sparked a fire within Brewster that kept him pushing to find a way to help those communities. He embarked on a mission that, although difficult, would prove to be very beneficial for all parties involved.
Housed within the Texas A&M College of Architecture, the Texas A&M Colonias program presents an opportunity for Soldiers to help residents in need while gaining priceless training opportunities, according to Brewster.
"I met several roadblocks along the way ... A few people said I wouldn't be able to get permission for Soldiers to work with the program because of Posse Comitatus," said Brewster, referring to a federal law that limits military authority among the civilian population. "I never stop at the first no, and because of that, I was eventually introduced to the Innovative Readiness Training (IRT) mission."
The IRT program is a collaborative effort between Army Reserve units and communities throughout the United States. The mission affords service members real-world training opportunities that help them stay proficient and ready for their wartime missions. They do this while also helping communities in America that are in need of assistance.
The local communities are usually responsible for basic supplies, while units provide the Soldiers. In turn, these Soldiers get the opportunity to work alongside their civilian counterparts and learn from their experience through hands-on training. The services they provide include engineering, health-care, transportation and civil-affairs assistance.
Brewster says the combined effort has led to the construction of miles of roads, a ballpark, and culverts to assist with water diversion.
He also says the program is a great recruiting tool because it affords civilians the opportunity to experience the Army Reserve up close and personal. College students volunteering their time are able to learn about the different avenues in which they can become Soldiers.
Brewster says he is proud of what has become of the program and the results that it has garnered.
"We've actually saved lives … We're improving the health of people in these colonies along the border," said Brewster. "We got glasses on a woman [who] said this was the first time she could see her husband in 40 years."
Another program Brewster is proud to be involved in is the Minuteman Scholarship
He says he has always recruited for alma mater Texas A&M and takes pride in bringing the university potential Reserve Officers' Training Corps (ROTC) students who are talented individuals.
"It started out with Hip Pocket Scholarships," said Brewster, referring to a program that provides selected Soldiers the opportunity to complete their baccalaureate degree requirements and obtain a commission through participation in ROTC. "I'd find a young man or woman who wanted to attend college that was a proven leader in the community."
Brewster had asked former classmate retired Lt. Gen. John Van Alstyne, who was the commandant of the Corps of Cadets at Texas A&M, if there was anything he could do to help. He asked Brewster to visit scholarship candidates for Cadet Command for Van Alstyne's consideration.
"One day, about six months later, he called me," said Brewster. "He said, 'Findley, you've got to stop … I've run out of scholarships.' "
Brewster says it was that phone call and another concerning where the scholarships came from that opened the door for his next mission.
"That's how I started working with Cadet Command," said Brewster. "They bought off on the idea of getting scholarships to ambassadors, and we are all hitting home runs."
The Minuteman program is an ROTC scholarship that covers full tuition and fees, or $10,000 per year, toward room and board at any college or university served by an Army ROTC program. Scholarship recipients also receive a yearly book allowance of $1,200 and a monthly stipend while attending school enrolled in the ROTC program.
Throughout his military career, Brewster received numerous accolades and was recognized for his dedication to the Army's mission. Even so, he says the praise isn't important to him and that it is something else that drives him.
"You ask me what my legacy is," said Brewster. "I don't know that I'm vain enough to tell you what my legacy is. I just know I like to look at myself in the mirror when I shave … and I can do that and be proud of who I am."
 --
Originally published on October 30, 2019 by Sgt. 1st Class Javier Orona U.S. Army Reserve Command
Share this article