We are excited to announce that the 2018 NRI Annual Report is live! Our team of research and extension professionals envision a future where the benefits of private lands are enhanced and the value of land stewardship is promoted and strengthened. We are driven by the Land Grant mission year over year to continue to solve complex natural resource challenges through discovery, stewardship, engagement and innovation. We're committed to conservation through interdisciplinary approaches, applied research, partner engagement and land stewardship.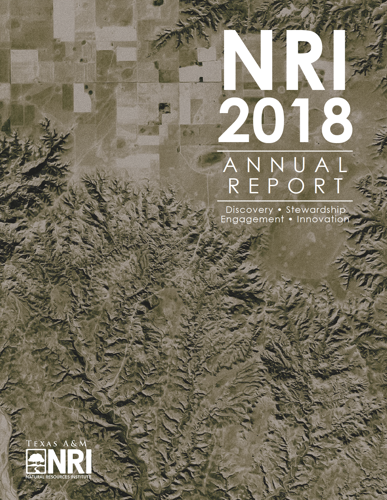 After an influential and ambitious year in 2017 working through several Species Status Assessments (SSAs), successfully translocating over 800 gopher tortoise (Gopherus polyphemus) due to their at-risk status as a candidate species under the ESA and organizing a data collection effort in the form of a statewide survey of private landowners for state and federal initiatives to increase landowner engagement in stewardship programs, we leaped into 2018 with four new priority projects in mind.
SEARCHING FOR WHITE-NOSE SYNDROME
After discovering the contagious disease white-nose syndrome (WNS) killing bats across the U.S. in Texas, NRI researchers led a multi-agency team to study winter activity, composition, abundance and environmental conditions to combat the disease via monitoring and prevention strategies. Without these bat populations, loss of insect control and crop pollination is estimated to cost the U.S. agriculture industry at least $3.7 billion annually.
ASSESSING RURAL LAND CHALLENGES
Although Texas farms and ranches contribute significantly to our state's economy in agriculture, energy and the military, our rural communities and natural resources are impacted by population shifts, urban growth, and other economic pressures. Through our geospatial analyses, we determined compatible land use solutions to protect both the military mission and the development of clean wind energy. Via rural survey work, we determined specific county needs and challenges for effective county leader planning.
ENHANCING WILD PIG CONTROL
Rapid wild pig population growth across the state negatively impacts our water and natural resources. To better manage and contain their growth and destruction, we've equipped landowners and resource managers with a web-based Wild Pig Reporting Tool where users can report pig sightings and damage-related information into a state-wide database. We anticipate this database will facilitate more efficient and cost-effective population reduction measures.
REDEFINING ACTIVE WILDLIFE MONITORING
Ecological monitoring is often limited by monetary and manpower constraints, particularly for low density threatened and endangered species. NRI is pioneering the use of Passive Automated Monitoring Systems (PAMS) for wildlife surveys, which grossly exceeds the sample effort possible with human surveyors. Because PAMS produces large, multivariate data sets, NRI is also developing novel data management systems, and will continue to pursue avenues for patenting and expanding the use of these innovative sampling technologies.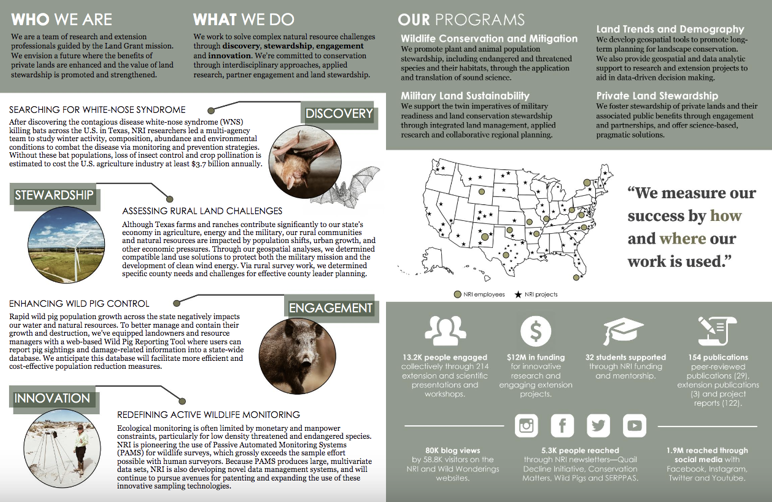 Diving into the numbers, our teams were able to engage with over 13,000 people in 2018 through extension and scientific presentations and workshops stemming from work revealed in 154 publications and reports. We're proud to be continuously exploring new methods to communicate science and reached a new milestone in 2018 for social media and website traffic to supply information for landowners, decision-makers and scientists alike.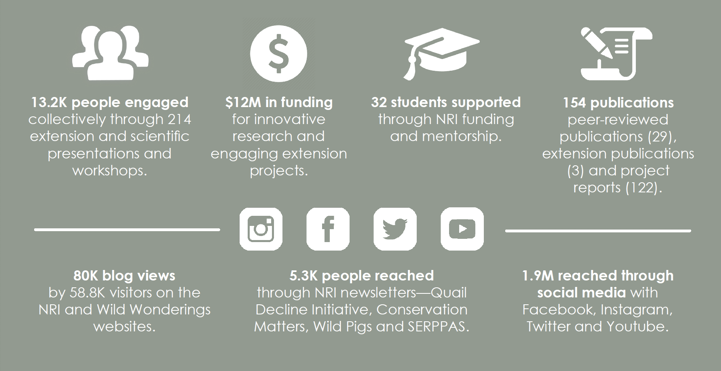 Thank you to everyone who has supported and contributed to the Texas A&M Natural Resources Institute. Our goal of solving natural resource challenges through discovery, stewardship, engagement and innovation would never be attainable without the hard work and dedication of our personnel and collaborations with you. We look forward to 2019 and the achievements to come.
You can find the interactive, full annual report on our Issuu page!
Share this article