Editor's note: 'Map of the month' is a new blog post series by NRI's Texas Land Trends program team.
Conserving Texas' open spaces is a state priority because of the many agricultural and ecological benefits they provide for all Texans and beyond. Texas promotes this conservation by taxing agricultural properties based on the land's productivity value versus its market value, which can be significantly higher. While ag tax evaluations traditionally involve practices such as haying, cropping, grazing and livestock, the state added a wildlife management use component in 1995.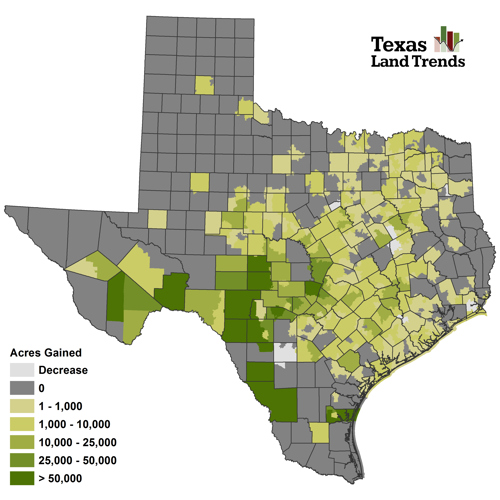 This non-traditional approach to preserving open space lands and their values has gained momentum in the past two decades, as the total number of acres enrolled has risen from 93K in 1997 to 3.2M in 2012. 
So how do you qualify and what is the process to switch from a traditional ag use property to wildlife management use? Below is a brief tutorial.
Wildlife Management Use Qualifications
Land must be qualified for Chapter 23, Subchapter D (1-d-1) Agricultural Appraisal.
This means is that land must have been qualified and appraised as agricultural land the year prior to applying to change to wildlife management use.
Land must be used to generate a sustaining breeding, migrating or wintering population of indigenous wild animals and the indigenous wildlife population must produce for human use.
In this context, an indigenous animal is one native to Texas or naturally migrates through an area and is living naturally in that area (i.e., non-exotic animal or introduced to the area). Human use of these animals may include food, medicine or recreation. While food and medicine are self-explanatory, recreational use may be a bit unclear. This category includes use for pleasure or sport and covers a wide array of activities either active (e.g., hunting) or passive (e.g., bird watching).
Is the land used for three or more of the following activities?
The landowner must conduct a minimum of three of seven management practices developed by the Texas Parks and Wildlife Department (TPWD):
1) habitat control,
2) erosion control,
3) predator control,
4) supplemental water,
5) supplemental food,
6) providing shelter and
7) census counts.
The three activities should be described in detail in the property's Wildlife Management Plan and show evidence of benefiting target species in the plan. This plan will also show evidence of the land's primary use and degree of intensity described below.
Primary Use
Land should be primarily used for wildlife. Residential, recreational and commercial uses should not take priority over management of wildlife. For example, land devoted to wildlife management can be used as a residence for the owner, but the land will not qualify if residential use and not wildlife management is the land's primary use.
Degree of Intensity for Wildlife Management Use
Wildlife management land generally requires management that encourages long-term maintenance of the population. Because wildlife management activities are elements of the degree of intensity determination, an owner must be engaging in activities to the degree of intensity typical for the area. The Texas Parks and Wildlife Department created rules defining the level of intensity required for each of the wildlife practices, for each ecological region, and all of Texas' 254 counties are assigned to one of these regions. 
Steps to converting to Wildlife Management Use Tax Evaluation
Landowners must submit an application (Form 50-129) for a 1-d-1 Open-Space Agriculture Use Appraisal to the county appraisal district in which the property is located from Jan. 1 to April 30 of the year they are applying. This form notifies the appraisal district that the land use of a property is changing.
Along with the appraisal form, a Wildlife Management Plan for Agricultural Tax Valuation must be submitted to the chief appraiser from Jan. 1 to April 30 of the year they are applying. Described activities and practices must be consistent with TPWD recommendations for the region where the property is located. TPWD biologists are available to work directly with landowners to assist in this process.
Landowners are encouraged to contact their local appraisal district, Texas A&M AgriLife Extension Service, or Texas Parks and Wildlife Department for additional information on Open-Space Agricultural Use Appraisals. More information can also be found on TPWD's website.
Share this post
---
Learn More