Solving Texas' natural resources challenges with TxMAP
When we collect data, we're gifted a multidimensional story, and it's up to the scientist in each of us to navigate the information one hypothesis at a time until we find relationships that solve complex natural resource issues. Like a trusty map from the glovebox with a pocket compass folded in the crease, the data reveals the best routes and the dead ends to avoid, but ultimately asks us to fuel our discoveries with creative inquisition.
As we've explored and developed with Texas data in the last few decades, we discovered that while data and technology give us a way of doing things, data and mapping is a way of relating things, like; locations that can't be juxtaposed because of their timeframes, endangered wildlife occurrences and the positive management practices happening elsewhere, energy resources and wind speeds, lizards and traffic congestion, river basins and human populations. 
In the uncovering of these infinite relationships using geospatial data, we sought to engage land managers, citizens, and policymakers as we started to visualize natural resource conflicts and solutions. The public accessibility of the data we use is a cornerstone of our research program, especially where collaboration with these groups leads us to better advocacy and resources for land stewards. As the adage goes, we shape our tools and our tools shape us—and, in this case, into more inquisitive conservationists.
Say hello to your new favorite mapping tool.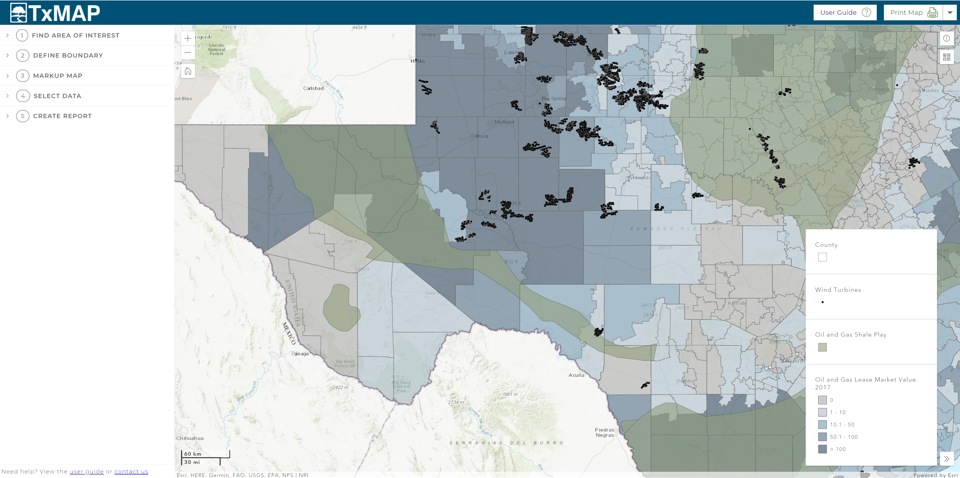 Land trends and demography datasets highlighting energy production and resources in west Texas.
Over the last year, our geospatial analysis team ideated and developed a web-based desktop mapping application called TxMAP allowing users to see how the water, wildlife, military and demography data we use relates to the land around it. Readers can explore the data layers to answer questions and better visualize natural resources across Texas through boundaries and markups, and then publish and print a summary of their findings. Individualized map reports created in TxMAP can be used for policymakers, conservation organizations, state and federal agencies and private landowners and managers giving a comprehensive review of desired geospatial information.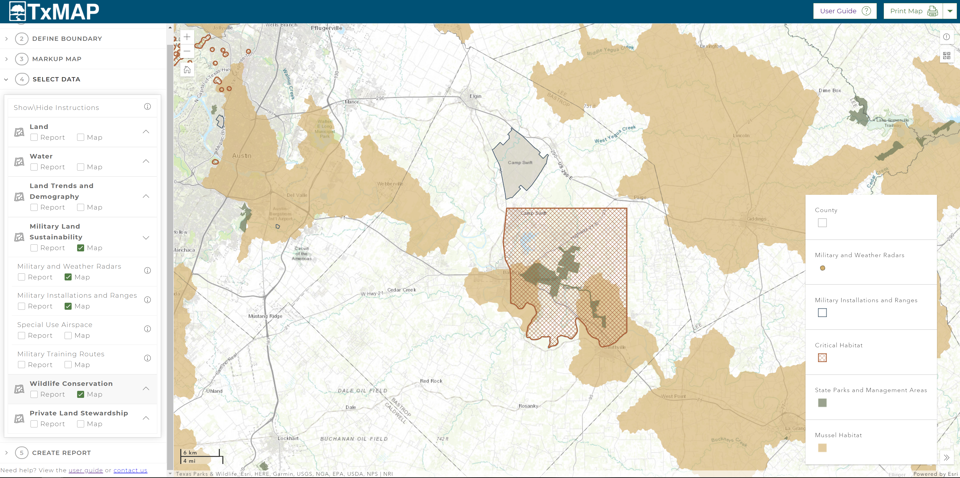 Our vision is that TxMAP becomes the solution for many relationships happening every day:
For conservation organizations and land trusts to identify critical habitat, target areas for conservation easements in relation to development and to leverage for land valuation estimates.
For legislative staff to direct constituents looking for ways to learn how and where wildlife conservation and threatened and endangered species and water-related projects occur.
For city planners and developers to discover where military training routes occur in relation to areas of interest as a part of standard practice.
For natural resource professionals, state and federal agencies and educators to gain insight on how resources are set up for those who do own land.
For private landowners and managers, to serve as the mapping component of How to Find Natural Resource Professionals in Texas. With resources visualized, landowners become oriented with their property and can learn how each entity works with the adjacent areas, answering questions that will catalyze their management plans and ability to identify programs that ultimately support the property.
Regardless of how this tool can serve you, TxMAP was created to continue to increase the public knowledge of trends occurring across the landscape, aiming to better inform and shape the future of our state's most valuable resource—land. With a user guide designed to help you along the way, go ahead and crack open a few layers in your new favorite mapping tool. We're eager to hear what you've discovered.
Share this post
---
Learn More