In Fiscal Year 2019, Congress expanded the Readiness and Environmental Protection Integration (REPI) Program's authority to address military installation resilience as a key element of the REPI Program. In accordance with 10 U.S.C. § 2684a(a)(2)(B)(ii), REPI projects may engage in activities that protect, restore, and support off-base natural infrastructure. Natural infrastructure solutions must contribute to preventing, preparing for, and recovering from extreme weather-related events or from anticipated or unanticipated changes in environmental conditions. Possible actions to preserve or restore off-base natural infrastructure include restoring wetlands and coastal marshes, re-establishing oyster reefs and submerged aquatic vegetation, restoring shoreline and dune vegetation, removing vegetation that restricts rainwater infiltration, enhancing riparian buffers, and restoring high-value habitat.
To showcase ongoing military installation resilience efforts, REPI is supporting several virtual engagements this fall. The below Resilience Webinar Series Review highlights the diverse range of workshops and webinars hosted by REPI, Southeast Regional Partnership for Planning and Sustainability, and Western Regional Partnership. Throughout this series, we will engage with installations, partners, and resilience leaders across the country to discuss how installation resilience can enhance military readiness.
One available resource, which may be useful to installations and partners, is the REPI Interactive Map [https://www.REPImap.org]. Using the National Fish and Wildlife Foundation "Coastal Resilience Evaluation and Siting Tool" [https://nemac.github.io/NFWF_tool/dist/#Home], REPI has added "Storm Surge", "Critical Infrastructure", and "Critical Facilities" layers to depict changing environmental conditions. Additionally, we have added multiple wildfire layers showing wildfire hazard potential as well as active and historic fires. These new layers are active now and can be accessed on the REPI Interactive Map website here [https://www.REPImap.org]. 
To find out more information on REPI's resilience efforts, please visit our new resilience page at: [https://www.REPI.mil/Resilience/]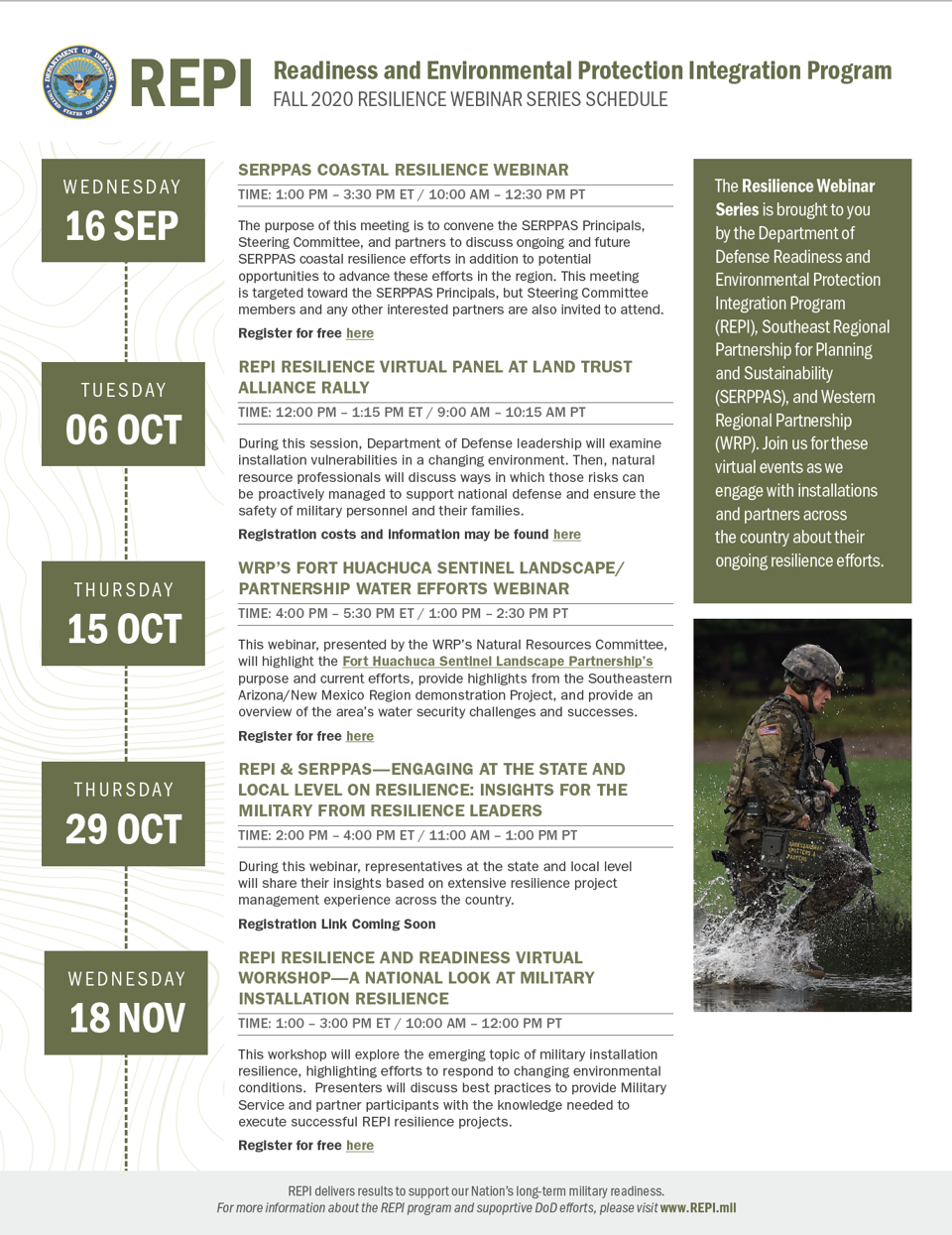 REPI Webinar Series
Share this post
---
Learn More