Texans will agree that you could never experience the full breadth of the state in one lifetime. It's easy to identify the unique characteristics sprinkled throughout, ranging from the population composition and cultures, the native flora and fauna, and the spectacular river systems like the Red River in the north and the Rio Grande in the south. In true Texas form, you will also find a range of agricultural production strategies varying by regional differences in climate and landscape. At the Texas A&M Natural Resources Institute, we tell the story of our state's privately-owned farms, ranches, and forests, otherwise known as working lands, which provide numerous ecological, economic and intrinsic benefits to our communities and beyond.
Our featured maps describe the patchwork of working lands spread throughout the state. Each dot represents an area of 10 acres of a specific agricultural land use, distinguished by color. The resulting map leaves a visual impression of the varying agricultural landscapes that define our state. Conversely, Texas A&M AgriLife supports a network of research and extension centers to serve the regional and local needs of private land stewards.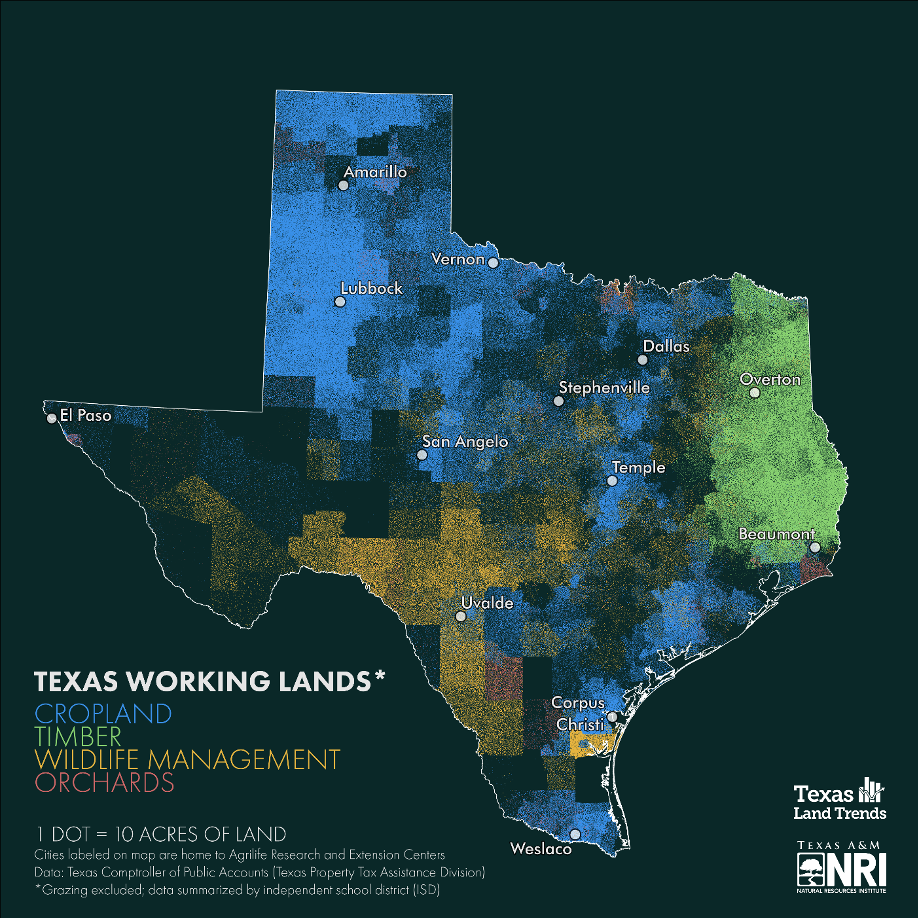 Figure 1. Dot density map of working lands in Texas where each dot represents 10 acres of rural land and its primary land use, and locations of Texas A&M Research and Extension Centers. Grazing has been separated as a stand-alone map due to the extensive acreage across the state.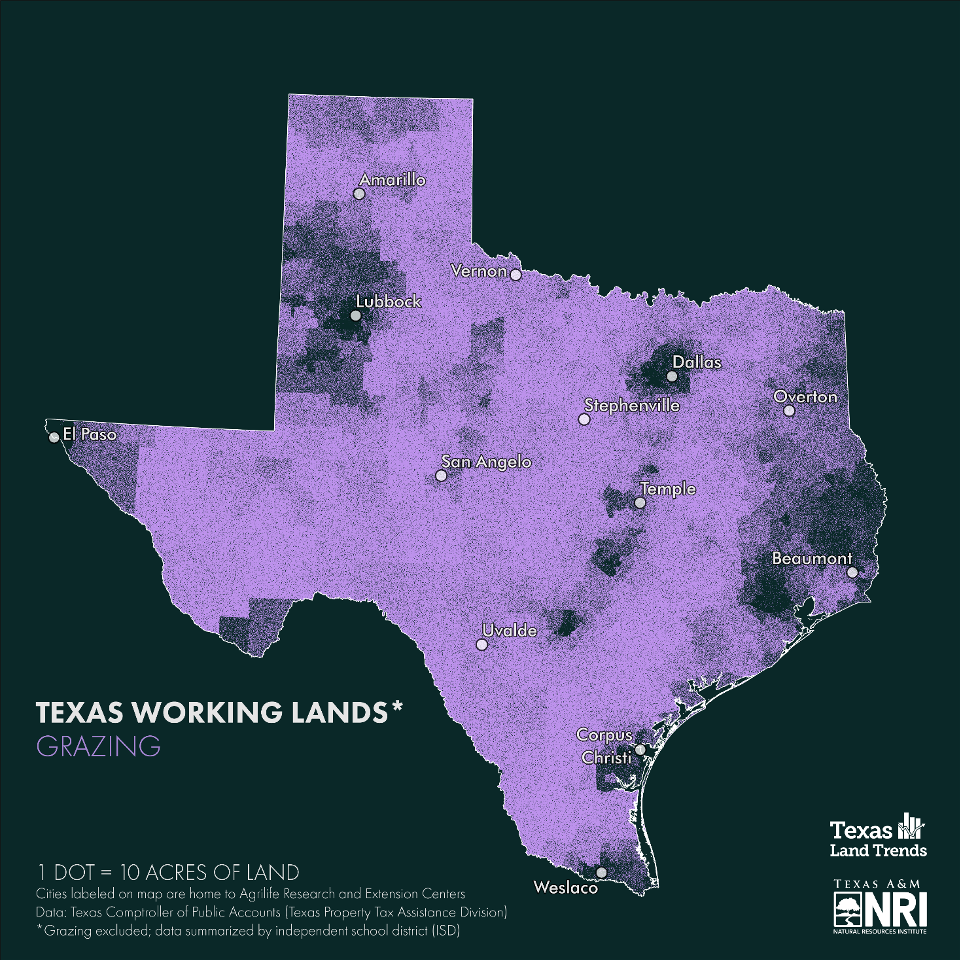 Figure 2. Dot density map of grazing lands in Texas where each dot represents 10 acres of rural land.
NRI is a unit of Texas A&M AgriLife, which works to improve and sustain working lands through innovative research and extension education. Thirteen Texas A&M AgriLife Research and Extension Centers exist across the state, each tailoring its studies and outreach programs to provide relevant tools for local landowners. Below we highlight the specialty work of each AgriLife Center by region:
South Texas
This southernmost region of Texas includes rich agricultural lands that notably support crops, such as cotton along the Gulf Coast, and orchards, as seen in the orange groves of the Lower Rio Grande Valley. Areas spanning the Hill Country to the Texas-Mexico border also provide for prime wildlife habitat, where common species include white-tailed deer (Odocoileus virginianus), Rio Grande turkey (Meleagris gallopavo) and the northern crested caracara (Caracara plancus).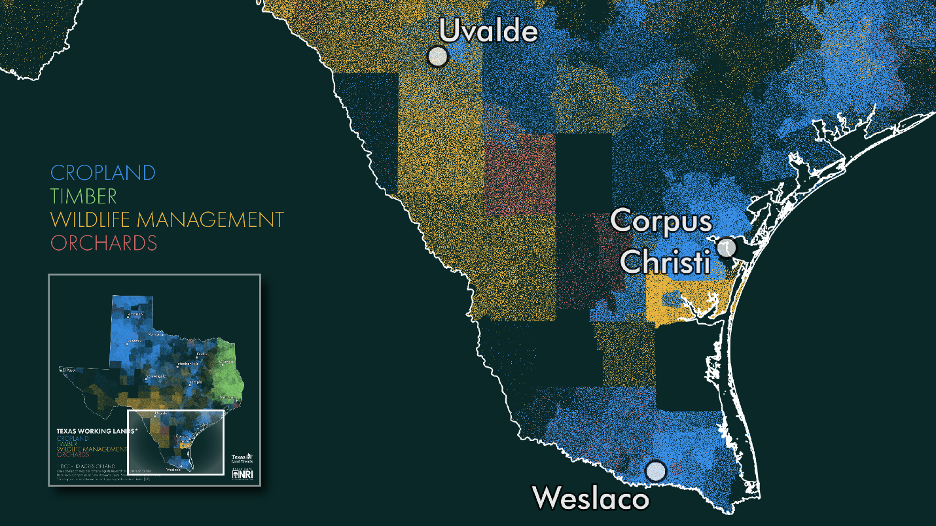 South Texas
Corpus Christi: Researchers at the Corpus Christi Research Center focus on innovations for sustainability of agricultural and livestock industries, including studies of crop drought tolerance, aphid management, and reproduction efficiency in livestock.
Weslaco: Located on the tip of Texas, research at this Center focuses on issues facing borderland counties, including land and water use, urban development, population growth, and foreign  competition.
Uvalde: The Uvalde Research Center serves the wintergarden and southwest region of Texas. Distinguished by rechargeable water resources, prolific wildlife, and extensive irrigated crops, the main research focus areas include cropping and irrigation strategies, water use efficiencies, wildlife habitat and natural resource management.
West Texas
Located in the foremost western portion of the state, this region is among the driest in the nation. The arid/semi-arid climate makes for, at times, severe drought conditions requiring extensive irrigation from the Rio Grande and Pecos River to support croplands. Drought-resistant crops such as sorghum are popular and contribute to grain feeds needed for livestock production.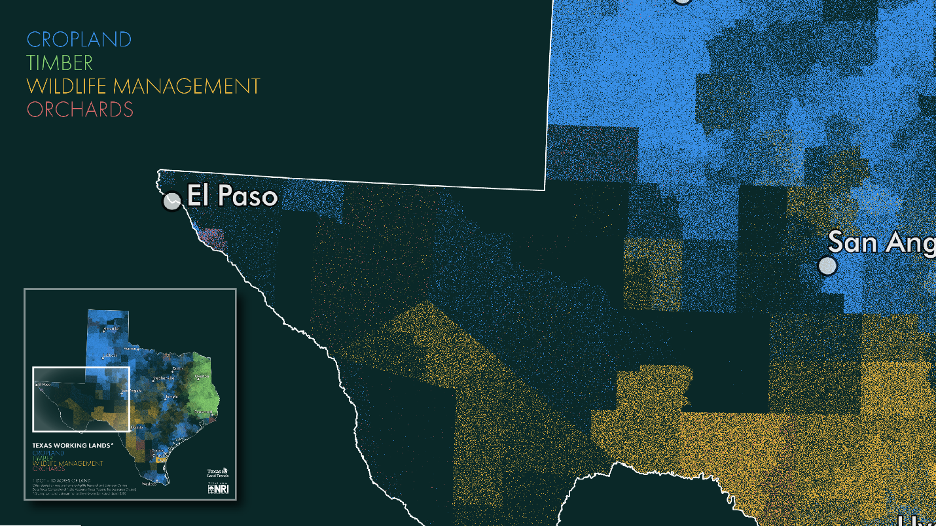 West Texas
El Paso: Situated at a critical point along the border, the El Paso Research Center primarily focuses on providing sufficient, reliable, safe, and cost-effective water resources to far west Texas. Water reclamation and contaminant detection are key areas of research at this center.
San Angelo: This Center serves the west-central Texas region by researching methods to improve sheep and goat production, fire ecology, and rangeland restoration. The San Angelo center also works to ensure sustainability in livestock operations and compatibility with wildlife and recreation businesses.
North Texas
Perhaps the most iconic area of Texas, the Panhandle-Plains region is a major contributor to the state's agricultural economy. Irrigation from the Ogallala Aquifer supports corn, oil seed and cotton production while many dry-land operations also exist. Beef cattle is a major industry in this area, with over one-third of all cattle finished within a 150-mile radius of Amarillo.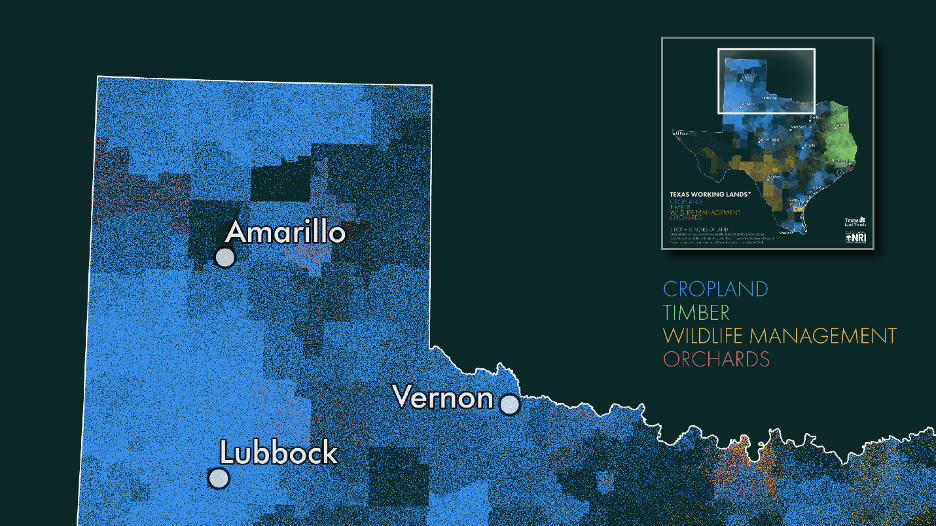 North Texas
Amarillo: The Amarillo Research Center addresses issues relevant to the Texas Panhandle, as well as neighboring states, with a primary focus on cattle feeding operations and wheat production. This Center also researches methods to extend the supply of water provided by the Ogallala Aquifer for crop irrigation.
Lubbock: This Center is situated in a region of heavy agriculture in the semi-arid Northwest region of Texas. Staple crops like cotton, corn, and sorghum are researched to improve production and pest resistance. The efforts of the Lubbock center, along with other state and federal organizations, has reduced the use of insecticides in cotton production by 70%.
Vernon: At the Oklahoma border, the Vernon Research Center develops management practices for the major livestock and crop production industry within the region. This Center also works to improve watershed management and quality in the semi-arid environment typical of North Texas landscapes.
East Texas
The Eastern region of Texas includes the largest variety of agricultural industries due to its diverse landscapes—the Blackland Prairies, the Pineywoods, the Gulf Coast, and the large urban centers. Rich soils in the Blackland Prairies traditionally support row crops, such as corn, while the coastal plain is well known for rice farming. Timber production in the dense pine forest along the state's eastern boundary is also a major contributor to the unique agricultural qualities.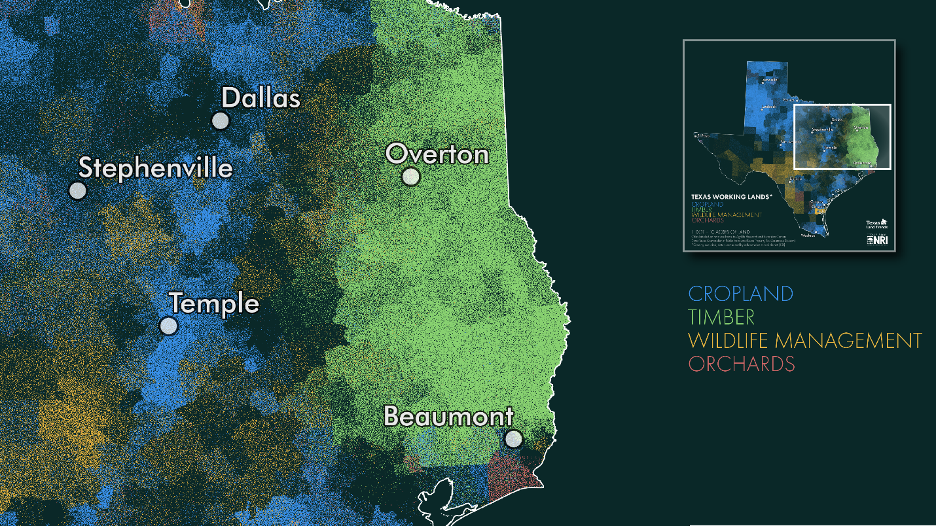 East Texas
Stephenville: The Stephenville Research Center takes on challenges related to the growing influence of urban development in traditionally rural environments. The work performed at this center focuses on a variety of food production and natural resource management topics such as fertility improvement in dairy cows and watershed contamination sampling.
Dallas: Uniquely located in one of the state's largest metroplexes, this Center focuses on topics related to urban/surburban interfaces to include technologies for low-impact development, stormwater management, water-efficient turfgrass breeding, water conservation, and urban food production.
Temple: The Blackland Research Center assesses land use changes using computer simulation models. Through these models, best management practices are developed to improve productivity, profitability and management of water supplies, especially during extreme weather conditions. Other studies at the Center include streamflow and sediment monitoring in relation drinking water utilized by Central Texans.
Overton: The Overton Research Center addresses issues in the fields of soil science, plant physiology, plant and animal breeding and genetics, animal physiology, and production-system science, with some attention to forestry and rural recreation. Through their research, great strides have been made in the enhancement of beef production as well as the horticulture industry.
Beaumont: Located in the Upper Gulf Coast region, the Beaumont Research Center is internationally known for being a leader in all aspects of rice production and management. This Center developed Texas A&M AgriLife Research's first rice cultivars, which have a 5% yield advantage compared to currently grown varieties honing the potential to increase statewide production revenue by $1.22 million per year.
Share this post
---
Learn More