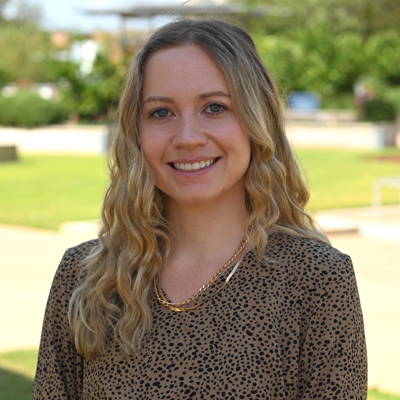 Alexis Pence
Research Associate
alexis.pence@ag.tamu.edu
---
As a research associate for the Texas A&M Natural Resources Institute, Alexis's current work focuses on ecological monitoring of military lands. Her duties include conducting baseline biological surveys, spatial analyses, and ensuring compliance with environmental policies.
Prior to joining NRI, Alexis received her Bachelor of Science in Mathematics and Environmental Science in 2018 from the University of Redlands. During her undergraduate career, she minored in Spatial Studies and Human/Animal Studies. Alexis completed her Master of Science in Wildlife and Fisheries Sciences at Texas A&M University in 2020. Her thesis work focused on the interactions between small mammal community structure and cattle grazing on native Texas rangelands. Prior to her thesis work, Alexis studied marine mammals, particularly whales and sea lions, in Southern California.
Alexis's research interests are primarily focused on understanding human impacts on wildlife communities. Outside of work, Alexis enjoys spending time with her family outdoors, playing video games, and doing yoga.