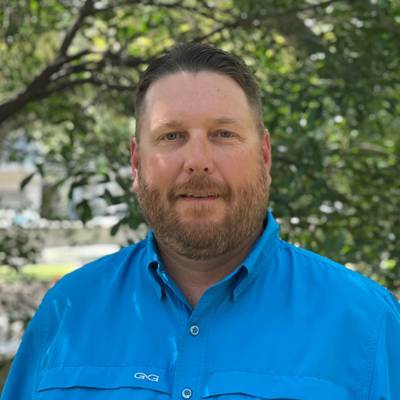 Lucas Cooksey
Project Director
lucas.cooksey@ag.tamu.edu
(210) 277-0292 x 102
---
As project director for the Texas A&M Natural Resources Institute, Lucas supports blending policy, planning, and practice into seamless programs that both sustain and enhance active land use alongside meaningful natural resource conservation.
With more than 20 years of experience in Natural Resources Management, his career includes appointments as a Park Ranger with the U.S. Army Corps of Engineers, serving as the U.S. Army Fort Sam Houston & U.S. Air Force Joint Base San Antonio – Natural Resource Program Manager, the Senior Natural Resource Specialist for the U.S. Army Environmental Command, and the Natural Resources Program Manager for the U.S. Army Installation Management Command Headquarters, where he lead the conservation programs on over 75 Army Installations throughout the U.S and abroad.
His development of innovative projects that balance ecosystem management and military readiness have been recognized by receiving the Texas Parks & Wildlife "Lonestar Land Steward Award" in 2010 and the Secretary of the Army "Civilian Service Commendation Medal" in 2020.
Lucas attended Texas A&M University-Kingsville receiving a Bachelor's Degree in Range and Wildlife Management and then obtained a Master's Degree in Biology from Texas State University-San Marcos.
Outside of work he enjoys quality time spent in the outdoors with his wife and daughter.