Children are the future. The past cannot be changed but the future can be impacted by putting quality effort into the present. Through the Future Farmers of America (FFA) youth program, students are presented with many agricultural-related lessons to grow their knowledge of systems and skills so that they may have the chance to improve their surroundings, and, as an extension, our futures. They also have an opportunity to practice what they learn through Leadership Development Events (LDE) and Career Development Events (CDE). This spring, Texas FFA students came to prove their knowledge at the Seven Lakes CDE Invitational held at Long Acres Ranch.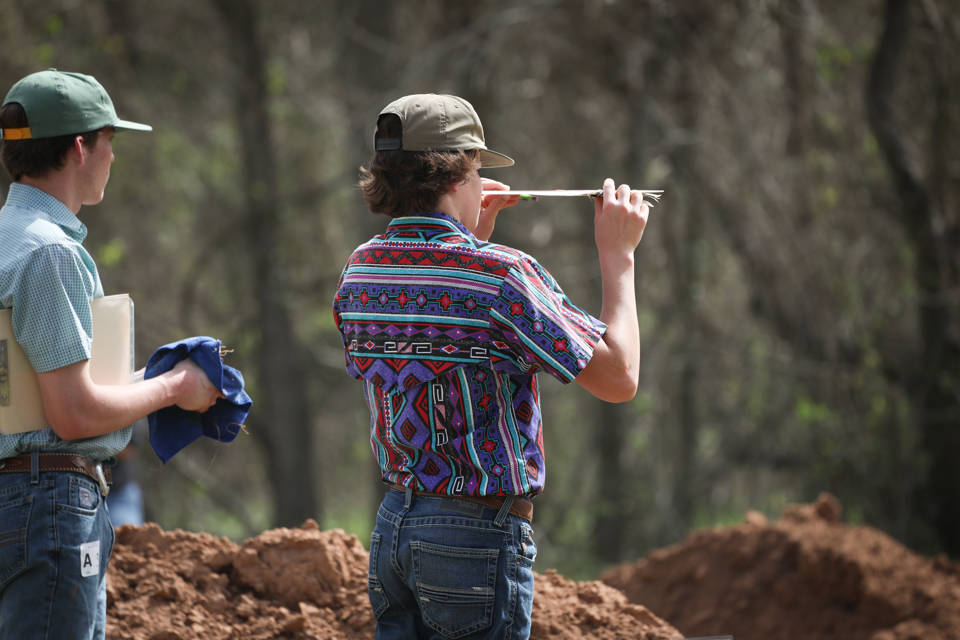 National FFA Organization Connections 
FFA is a national student organization offered to primarily high school students who are interested in agriculture, leadership, and teamwork. Students are exposed to a broad array of ag-related opportunities through their school that provide them with career readiness. They also have the opportunity to meet professionals in their field of interest. In some instances, by the time a student graduates, they can earn a certification or two to start a career right after high school.
FFA CDE Invitationals 
The FFA students participating in CDEs, like the Seven Lakes CDE Invitational, benefit by developing and honing skills necessary to achieve a future career or college education. Across the state, various invitations are held with different events that are suited for the venue of the CDE. Some of the events include agronomy, cotton, dairy cattle, forestry, meats, poultry, and veterinary science. The invitationals are precursors to the highly competitive state and national competitions.  
Participants  
Fifty-five schools brought 432 students to Long Acres Ranch in Richmond, Texas to compete in the Seven Lakes CDE. The events offered were Entomology, Floriculture, Land, Homesite, and Wildlife. The campuses that participated in the events were A&M Consolidated, Alief, Boling, Brazos, Bridgeland, Calhoun, Central Heights, Cinco Ranch, Clear Falls, Clements, Cleveland, Dulles, Foster, Fulshear, Ganado, George Bush, George Ranch, Hondo, James Madison, Jordan, Karnes City, Katy, Katy Taylor, Kempner, Klein, Klein Cain, Klein Forest, Klein Oak, Madison, Magnolia, Magnolia West, Navasota, New Summerfield, Oak Ridge, Onalaska, Paetow, Refugio, Rockdale, Royal, Rusk, Samuel Clemens, Schulenberg, Seven Lakes, Stafford, Sterling, Stockdale, Summer Creek, Sweeney, Tidehaven, Tomball, Tomball Memorial, Tompkins, Travis, Waller, and The Woodlands. Of these campuses, Hondo High School traveled the farthest of 221 miles to get to the ranch.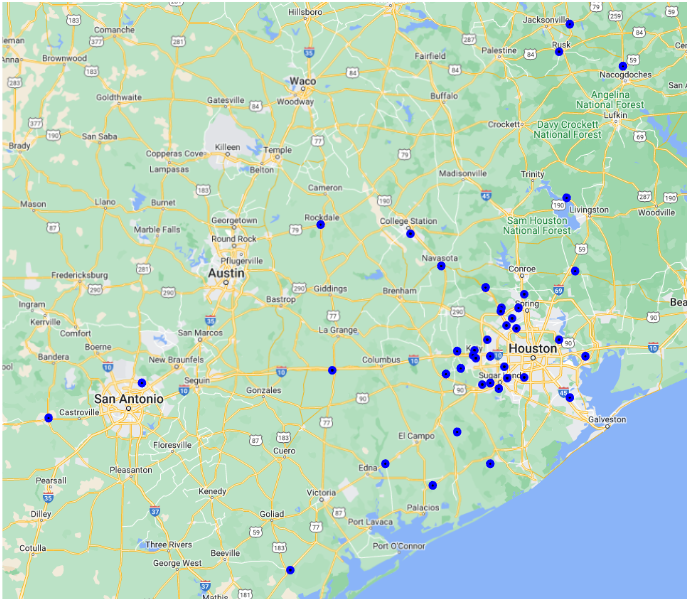 Blue dots on the map represent a school's campus location that attended the Seven Lakes FFA CDE. 
About the Events
Entomology: Students apply the fundamentals of entomology and develop skills in identifying common insects and their significance to people and agriculture. 
Floriculture: Classroom knowledge and skills are applied as students identify and evaluate cut flowers, house plants, flowering plants, floral designs and complete an exam that tests their knowledge of floral design, propagation as well as preparation of floral and foliage products for sale. 
Land: Members of land evaluation teams judge sites based on characteristics of the soil and observations of landscape conditions, then recommend land treatments considering factors such as soil characteristics, vegetative conditions and planned use for the site.  
Homesite: Introduces students to non-agronomic use of land including, but not limited to, the suitability of various types of land for building sites, home sanitation systems, impoundment structures, lawns and other construction considerations. 
Wildlife: Students apply the information gained through enrollment in the agricultural science wildlife management course to demonstrate and identify plant species, proper habitat management practices, safety procedures, game laws, management techniques as well as compass and pacing skills.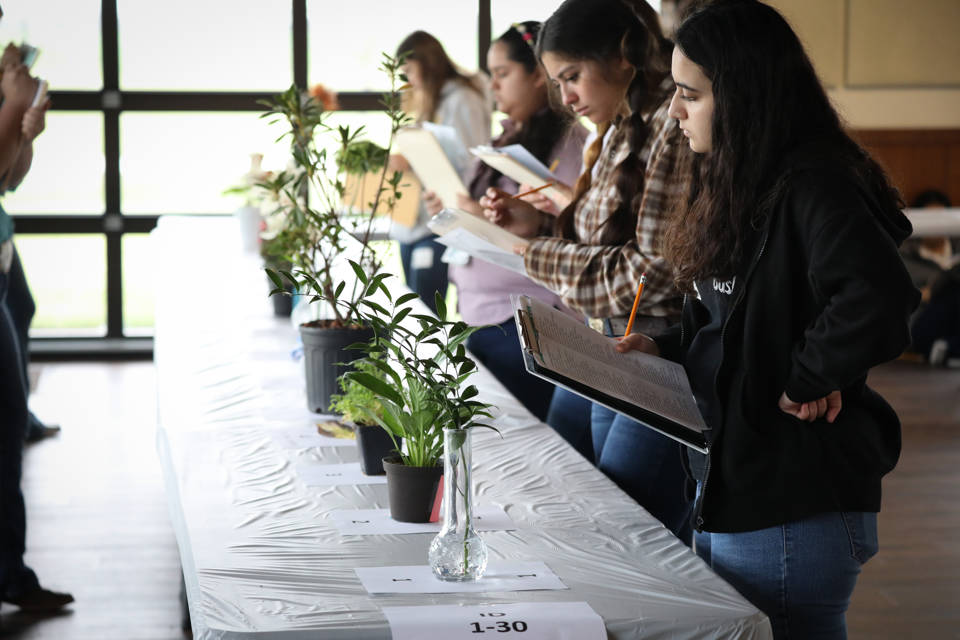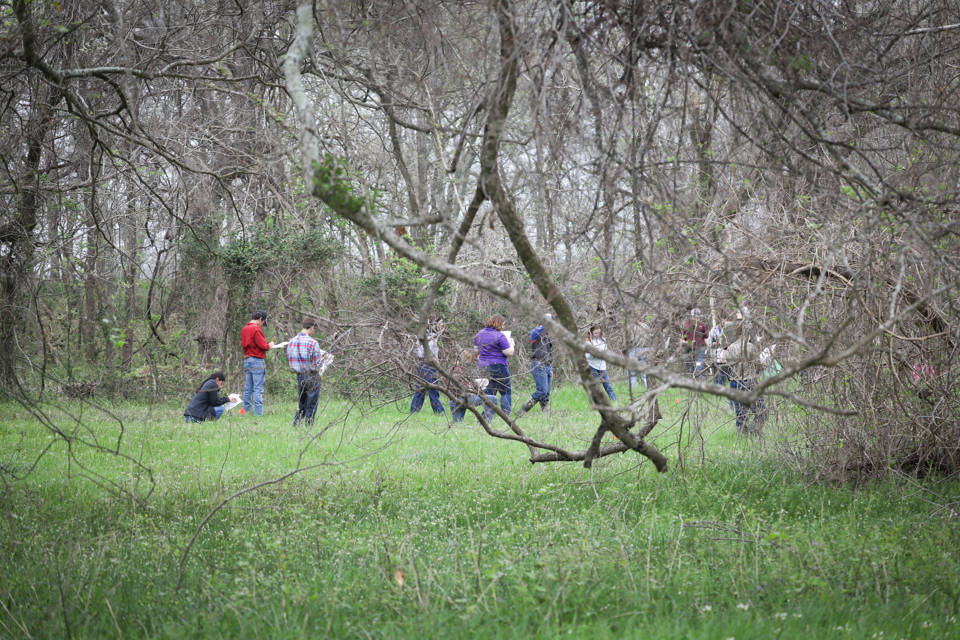 It Takes a Village 
The students did a great job in the events and their advisors worked hard to ensure their success. There were also many wonderful people involved in making the Seven Lakes CDE an amazing invitational. We were grateful to have had the following superintendents and their assistants: Fran Steele - Fort Bend County Master Gardeners, Dan Lawlor - Fort Bend County Master Naturalist, Gary Harris and Chris Hobbs - USDA NRCS, John McLeod - TPWD Wildlife Biologist, Barry Eversole - Texas Game Warden, Boone Holladay – Fort Bend County AgriLife Extension, and Adrienne Paquette - Texas Wildlife Association.  
The host for the invitational was Seven Lakes High School of Katy Independent School District. The Seven Lakes High School advisors, Katy Sheffield, Blake Godwin, Joe Bochat, and Morgan Ognoskie sponsored the event and created an excellent contest to the benefit of an amazing learning opportunity and experience. As a result, $30,000 worth of scholarships were awarded to qualifying top-placing seniors at this event. Long Acres Ranch staff including Range Manager October Smith, Natural Resource Education Coordinator Scott Lightle, Guest & Program Coordinator Jennifer Cheesman, and Administrative Coordinator Suzanne Whiteford, as well as Texas A&M Natural Resource Institute staff including Associate Director, Dr. Jim Cathey and Project Coordinator James Page worked tirelessly behind the scenes to help make the event a success.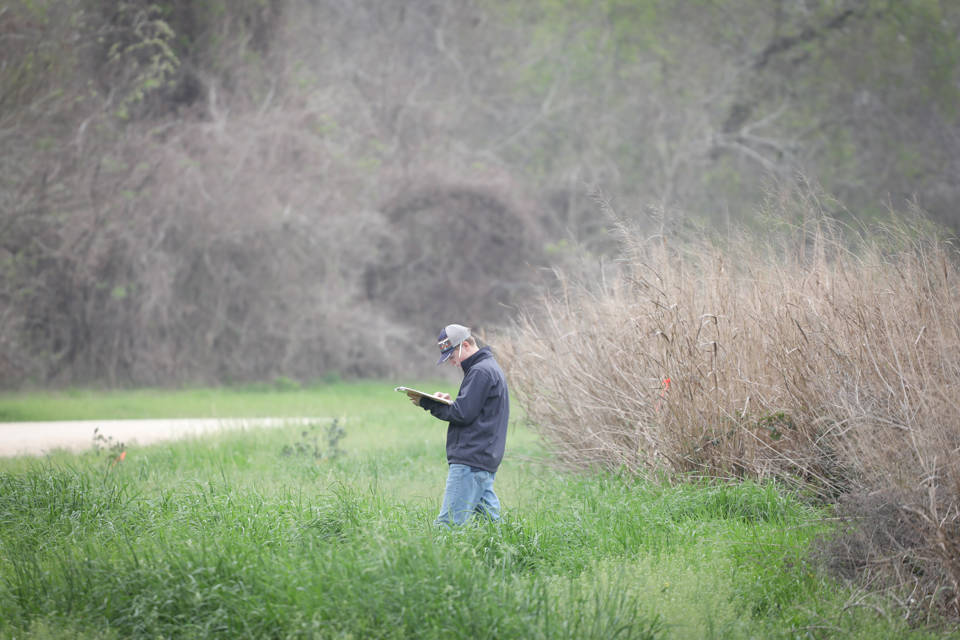 Share this post
---
Learn More