Texas Brigades is accepting applications for its summer Brigade Camps. Applications are due online by March 15.
Texas Brigades has a series of eight statewide summer camps open to youth ages 13-17 interested in science and the outdoors. Each camp is five days long and themed around a wildlife or natural resource topic. Camp fees of $500 cover meals, lodging, materials and more. Local sponsorships are available and encouraged.
Interested youths will select "Cadet App," set camp preferences and answer questions about their interests and experiences. Adults interested in volunteering for camp will select "Adult Leader App." Camp selections are made by April 15.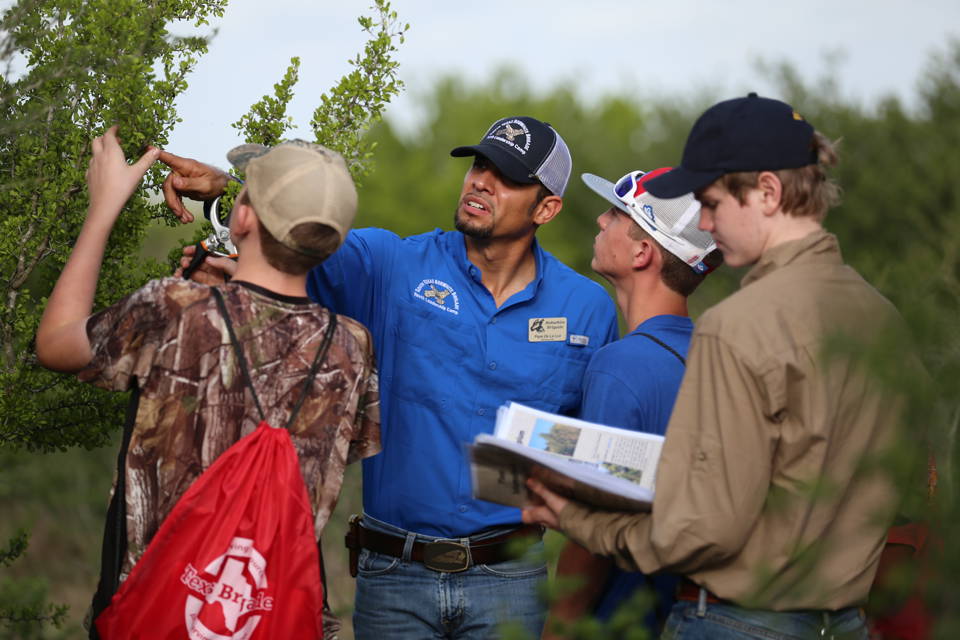 Cadets at a Bobwhite Brigade camp learn about bobwhite habitat requirements and land management. (Texas A&M AgriLife photo)
Scheduled Brigade Camp dates and locations are:
June 4-8, Rolling Plains Bobwhite Brigade, private ranch near Abilene.
June 13-17, South Texas Buckskin Brigade, Welder Wildlife Refuge, Sinton.
June 19-23, South Texas Bobwhite Brigade, Buck Horn Creek Ranch, McCoy.
July 7-11, Bass Brigade, Warren Ranch, Santa Anna.
July 14-18, Waterfowl Brigade, Pintail Hunting Club, Garwood.
July 19-23, Ranch Brigade, Warren Ranch, Santa Anna.
July 25-29, North Texas Buckskin Brigade, Warren Ranch, Santa Anna.
July 27-31, Coastal Brigade, Sea Star Base, Galveston.
Texas Brigades summer camps provide an intensive and exciting hands-on learning experience. Camps immerse participants in important principles of natural resources stewardship vital to livestock, wildlife and waters in Texas. Participants also learn about the sciences of ecology, biology, botany, agronomy and more.
"Texas Brigades is a non-profit organization providing youth with education, skills and confidence needed to be a voice for conservation and stewardship," said the organization's executive director, Natalie Wolff.
"We partner with Texas A&M AgriLife Extension Service and local county agents and educators to bring a rich, content-specific, science-backed curriculum to our participants," Wolff said.
Dale Rollins, Ph.D., retired AgriLife Extension wildlife specialist, developed the initial Bobwhite Brigade in order to expand AgriLife Extension's educational efforts through the development of the next generation of wildlife ambassadors.
The Texas Brigades has since evolved into a non-profit organization that works in partnership with AgriLife Extension, Texas Wildlife Association, Texas Parks and Wildlife Department and the U.S. Department of Agriculture Natural Resources Conservation Service, as well as universities, conservation groups, local soil and water conservation districts, private businesses and individuals with an interest in wildlife and youth leadership development.
For more information, contact Texas Brigades headquarters at 210-556-1391.
Share this post
---
Learn More