Military presence across Texas is easily noted, often due to major installations, such as Naval Air Station Corpus Christi or those part of Joint Base San Antonio, being situated in the heart of populated areas. Historically, however, many installations were established in rural areas to allow a buffer between communities and for expansive training spaces needed by military forces to conduct large-scale, realistic exercises. Over time, populations arose across the state and installations have attracted businesses and residential development to accommodate military personnel. This urban development has led to training lands being surrounded (often-termed encroachment), posing new challenges stemming from land use compatibility between community and military needs. In recent years, collaborative efforts among civilian and non-civilian stakeholders have increased to ease development tensions around these lands and shown that proactive communication and outreach can lead to successful compromises and strategies to balance conflicting needs.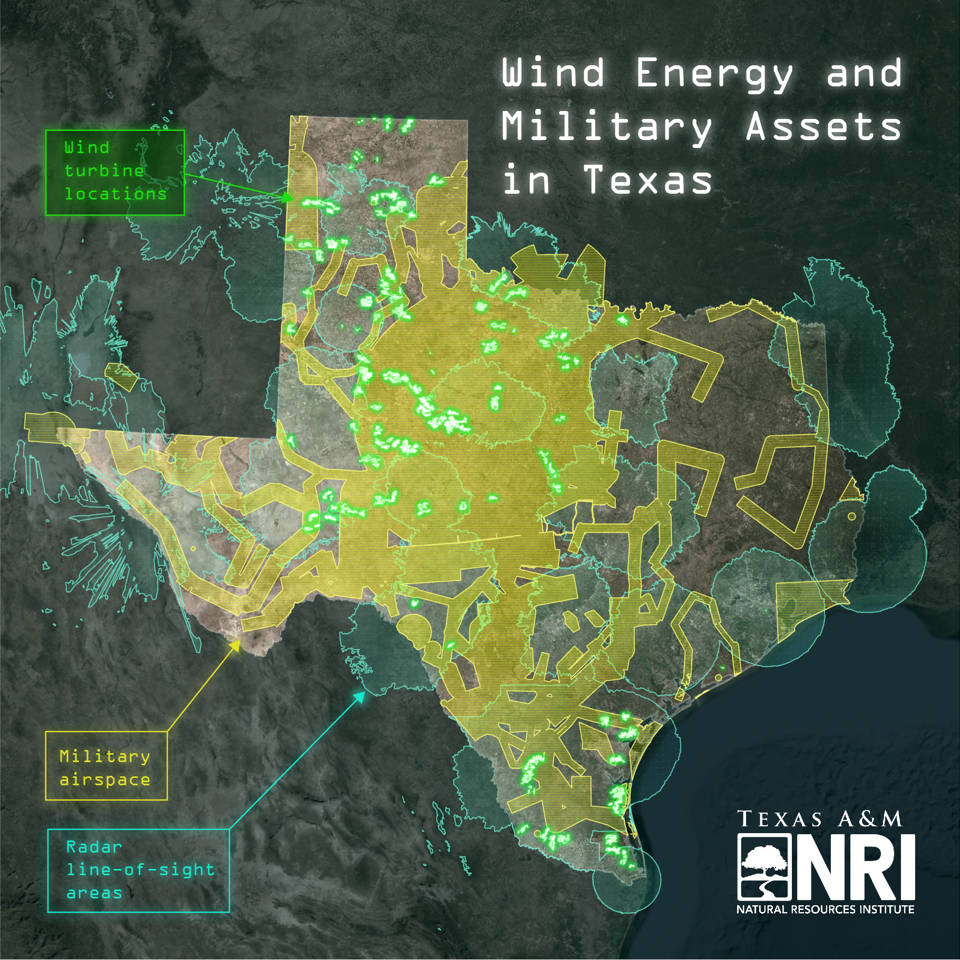 The convergence of military assets and wind energy development highlights the need for engagement between stakeholder groups—here we emphasis the overlap of both. Wind turbines have been accentuated so they would be visible at statewide level.
One aspect of encroachment, which is less apparent to the eye, involves vital airspace utilized for various military aviation efforts. In Texas, numerous military installations and associated auxiliary/outlying fields, in addition to commercial and general aviation airports throughout the state, support training flights and operations. The associated airspace for military operations, similar to lands needed for ground-operations, provides for a variety of test and training missions. These include low-altitude flights, night training, and new aircraft testing to name a few. While not defined by fenced perimeters, aviation activity must be conducted in specified areas within designated altitudes.
Most airspace in Texas occurs in the highly rural western and northern regions of the state, allowing for large expanses of Military Training Routes with minimal overlap of major urban areas (although, military airspace does occur in more populated regions, as well). These rural runs are important but experience unique challenges from their urban counterparts. While residential and commercial development are a common concern for airspace situated over and around cities, energy development, such as wind turbines, can interfere with airspace operations by creating physical barriers, impacting radar returns, and adding to light pollution. If airspace becomes compromised, by a tall structure for example, it can limit or in some cases shut down its use entirely. State legislation (Texas Senate Bill 277) is in place to discourage the building of wind turbines within a 25 nautical mile radius of military installations but does not take into account the numerous miles of airspace that go beyond this buffer, along with the location of radar systems, which may be located off installation.
Given the recent growth and importance of the wind energy industry in Texas, especially seen in the northern half of the state where many vital airspaces exist, military planners, industry leaders, and community stakeholders are working collaboratively towards proactive solutions to avoid conflict when possible. As part of this effort, the Texas A&M Natural Resources Institute, funded by the Texas Military Preparedness Commission and the Department of Defense Office of Economic Adjustment, undertook the development of a publicly available web tool in 2019. This month marks the one-year anniversary of the Texas Early Notification Tool (TENT), which enables industry and other stakeholders to assess potential project locations in light of military airspace and provide users with current military points of contact to facilitate initial contact.
Screen view of the Texas Early Notification Tool
Over the past year, the tool has proven useful, especially by wind energy companies, who have utilized TENT to vet potential development sites. To date, over 450 30-minute sessions have been conducted by stakeholders and platform analytics suggest a steady use of the tool spread over the year. In the coming years, we project the time invested to ensure limiting encroachment will continue to rise given the value of TENT. Following the momentum of this project's success, NRI continues to expand its efforts related to airspace encroachment, through both TENT as well as other related engagement opportunities. Be on the lookout for NRI updates to this project as we plan to host a stakeholder meeting this coming spring that will bring together industry, community, and military leaders for an annual discussion on tool updates, wind energy industry technology developments, and collaborative strategies for continued communication between stakeholders.
Share this post
---
Learn More