Wild pig control outreach and education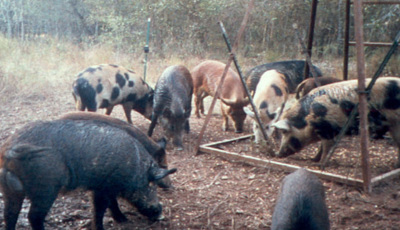 Wild pigs are one of the greatest invasive species problems in the United States. They impact water quality, agricultural crops and livestock, wildlife populations and their habitats, and more recently, suburban landscapes. Nationwide, the population is estimated at about 4 million animals — with 2.6 million in Texas alone.
Wild pig crop damages and control costs are reported to be greater than $1.5 billion across the nation and conservatively $52 million in Texas, annually. In areas where wild pig populations are concentrated or in and near streams, where they spend a significant portion of their time, they contribute bacteria and nutrients to water bodies. These populations can substantially impact water quality by eroding banks, increasing sediment loads and algae blooms, and causing oxygen depletions.
Through presentations, publications, smartphone applications, social media content and videos, we are helping the public understand these animals live, as well as improving the reduction measures used by landowners to control this pest. Our work has helped many stakeholders actively involved in implementing water resource management and protection programs in their watersheds. Providing education to landowners about effective removal and management strategies is crucial to successfully reducing wild pig populations and improving the water quality of Texas streams.
Read our latest Wild Pig newsletter.
Dr. Jim Cathey is an associate director for the Texas A&M Natural Resources Institute. Jim is a regional and national expert in wildlife management, Extension outreach and programming, feral hog management and conservatio…
News
There are no related news articles
---
Blog Posts
There are no related blog posts