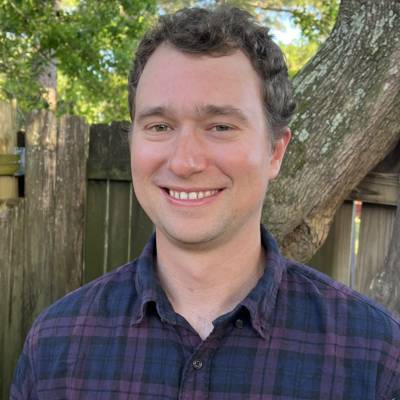 Lucas Haralson
Research Associate
lucas.haralson@ag.tamu.edu
(210) 277-0292
---
As a research associate for the Texas A&M Natural Resources Institute, Lucas provides support to Eglin Air Force Base through the monitoring and management of threatened and endangered coastal species. His primary responsibilities include surveying for shorebirds and sea turtles, but he is also involved in other projects that support the natural resource division of the base.  
Lucas received his bachelor's degree in Biology from Colby College in 2014. After graduating, he went on to work with mud turtles in Belize, toads in Wyoming, and invasive reptiles in South Florida before returning to school and earning his Master's of Science from the University of Southern Mississippi in 2021. His graduate research dealt with freshwater turtles, with research projects focused on Alligator Snapping Turtles, Spiny Softshell Turtles, and Red-eared Sliders. Aside from reptiles and amphibians, he has assisted on projects working with bats, birds, and freshwater fish. Lucas has also implemented environmental outreach into his career, working as a coastal environmental educator in Georgia and earning a NASA Mississippi Space Grant Consortium Fellowship to conduct reptile and amphibian outreach while in graduate school. 
In his free time, Lucas enjoys wading in creeks and swamps looking for turtles and snakes, snorkeling in the ocean, and playing with his dog.