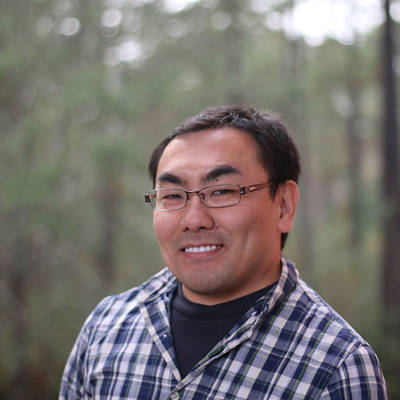 Ken Inoue
Assistant Research Scientist
kentaro.inoue@ag.tamu.edu
(469) 866-5894
Curriculum Vitae
Additional website
---
Dr. Kentaro Inoue is an assistant research scientist at the Texas A&M Natural Resources Institute. Kentaro is an evolutionary and conservation biologist with a passion for freshwater molluscs (mussels and snails) and crustaceans.
He endeavors to understand how natural and anthropogenic forces affect the current distribution of biodiversity, and to use the information for conservation and management of imperiled species. Using both ecological and evolutionary principles, his research focuses on understanding spatiotemporal patterns of biodiversity in response to environmental changes and the processes that promote and assemble diversity. His techniques include population genetics, phylogenetic and phylogeographic analyses, mark-and-recapture monitoring and ecological and evolutionary modeling.
Kentaro provides years of experience studying freshwater molluscs and crustacean in the Mississippi River and Rio Grande systems in the United States and several river systems in Europe.
Kentaro received a bachelor's degree in wildlife ecology and management and a master's degree in environmental sciences from Arkansas State University and a doctorate in zoology from Miami University. Before joining the institute in 2016, he worked as a postdoctoral fellow at the Technical University of Munich, Germany.