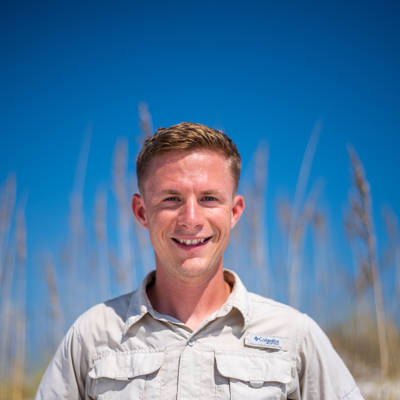 David Seay
Research Associate
david.seay@ag.tamu.edu
(850) 882-8421
---
David Seay is a research associate for Texas A&M Natural Resources Institute. Through NRI, he supports Jackson Guard, Eglin Air Force Base's natural resources office. His current work focuses on surveying and monitoring of threatened and endangered avian, reptilian, mammalian, and lichen species on military land.
He received a Bachelor of Science in marine biology from Auburn University in 2012. During his education and immediately after, he focused on elasmobranch management and research in the Gulf of Mexico and the Bohol Sea.
Prior to joining the NRI team, David worked for the US Geological Survey, conducting research on marine turtles in the Gulf of Mexico and its inland waters. During his time with the USGS, he studied various aspects of marine turtle ecology, including mark-recapture of adult and juvenile turtles to determine population structure and survival rates, satellite and acoustic tracking to identify foraging grounds and home ranges, and genetic and stable isotope studies.
Outside of work, David likes to spend his time camping, mountain biking, and hiking with his dog.