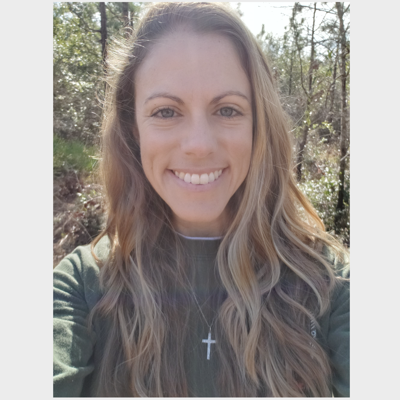 Carolyn Gindl
Research Associate
carolyn.gindl@ag.tamu.edu
(850) 882-8421
---
As a research associate for the Texas A&M Natural Resources Institute, Carolyn (Carrie) Gindl, provides support to Eglin Air Force Base primarily through the monitoring and management of species inhabiting the coastal dune ecosystem.  Her work consists of monitoring threatened and endangered species in order to provide maximum mission flexibility for military testing and training activities. 
Carrie received her bachelor's degree in Wildlife Sciences from Auburn University in 2007.  She began her career in wildlife as a natural resources intern at Naval Air Station Whiting Field in Milton, FL in 2008.  She has since worked at various locations throughout the southeastern United States including the Great Smoky Mountains National Park, Land Between the Lakes National Recreation Area, Apalachicola National Forest, Apalachicola Bluffs and Ravines Preserve, and Tate's Hell State Forest.  Since December of 2012, Carrie has supported the mission of Eglin AFB through the management of threatened and endangered species.  Throughout her career, she has had the opportunity to work with a variety of species including the American bison, elk, black bear, red-cockaded woodpecker, reticulated flatwoods salamander, gopher tortoise, sea turtles, and shorebirds.
During her free time, Carrie enjoys traveling, hunting, fishing, arts and crafts, music, staying active in her church, and spending quality time with her family (including her fur babies).