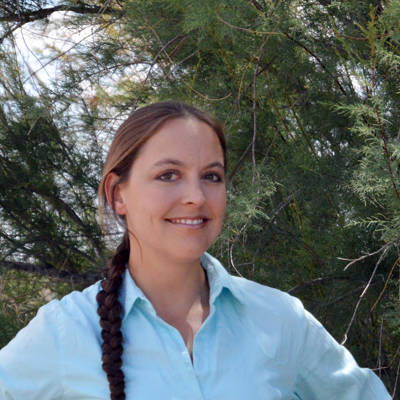 Allison Harvey
Research Specialist
allison.harvey@ag.tamu.edu
(575) 572-6703
---
As a research specialist for the Texas A&M Natural Resources Institute, Allison Harvey supports U.S. Department of Defense (DoD) installations through natural and cultural resource survey, documentation and monitoring.
Prior to her position at Texas A&M, Allison worked as an archaeologist and geospatial database specialist for Colorado State University's Center for Environmental Management of Military Lands at Holloman Air Force Base. She also previously worked for the National Park Service as an archaeologist at White Sands National Monument.
Allison has spent the last seven years studying prehistoric land use patterns within the northern reaches of the Chihuahuan Desert in New Mexico's Tularosa Basin. The basin is home to White Sands, the largest gypsum dune field in the world.  Her master's research included experimental gypsum hearth reconstruction and multi-scale spatial analysis of archaeological sites in the dune field.
Her research interests include desert ecology past and present, Paleo-climate reconstruction, prehistoric lithic technology, and using GIS and remote sensing techniques to advance research and management of natural and cultural resources.  
In 2013, Allison received a Master of Arts degree in anthropology, with a concentration in archaeology and a minor in geographic information systems (GIS) from New Mexico State University. She earned two Bachelor of Art degrees, one in anthropology and one in environmental studies from Eckerd College in 2009.