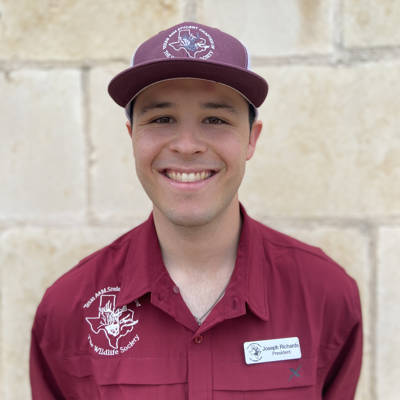 Joseph Richards
Student Technician
wildlife4joe@tamu.edu
(979) 845-1851
Curriculum Vitae
---
Joseph joined the Texas A&M Natural Resources Institute in November 2019 as a student technician for the Feral Hog Project. He is currently a senior undergraduate at Texas A&M University pursuing a double major in Wildlife & Fisheries Sciences and Entomology. Joseph manages social media content for the Feral Hogs Community of Practice Facebook page and creates educational presentations and resources through a variety of online and social media outlets including: the Feral Hogs YouTube page, the Wild Wonderings Blog and the Wild Pigs website. 
Joseph is an active member in the Texas A&M University Student Chapter of The Wildlife Society. He has served in several officer positions as President, Wildfire Coordinator, and Conclave Chair. Joseph led students on deer captures with the East Foundation, volunteered with CWD checkpoints for Texas Parks & Wildlife, and assisted with prescribed burns on public and private lands.
Joseph is also an avid wildlife photographer and helps manage his family's outdoor photography business, Richards Outdoor Photography LLC. In his free time, he also enjoys hunting, fishing, hiking, and camping.