Lieutenant General Jeffrey Buchanan Commander, U.S. Army North and Fort Sam Houston presented NRI's program manager and retired Army Colonel Findley Brewster with the Distinguished Quartermaster award for lifelong support of the U.S. Army, military personnel and military families. The Distinguished Quartermaster program recognizes the efforts of private citizens in the communities surrounding Fort Sam Houston for enhancing the quality of life for soldiers and their families. 
Brewster was recognized for his specific efforts in U.S. Army recruiting, the Minuteman Scholarships and for playing an instrumental role in launching Texas A&M's Task Force Colonias, a collaboration with the U.S. Army Reserve and Navy to bring hundreds of low-income community residents necessary and no cost health, engineering and civil affairs services.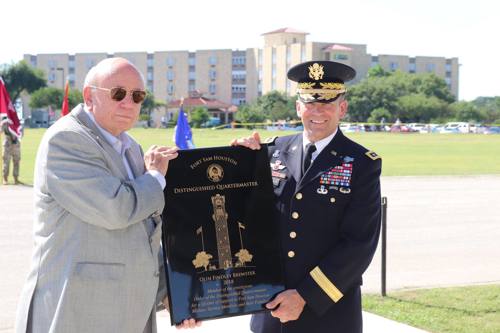 Findley Brewster accepting the Distinguished Quartermaster award.
Serving as program manager, Brewster supports various NRI military sustainability programs including the recent state-wide mapping efforts balancing wind energy and military training compatibility in Texas.  
Brewster has more than 45 years of experience in, or supporting, the federal government. He has worked in San Antonio, San Marcos and Victoria, Texas, where he was responsible for many logistical, technical and maintenance tasks of a governmental nature. He has held the titles of Command Executive Officer, Chief of Staff and Supervisory Logistic Management Specialist. Brewster has completed many military courses, including those in national security management and logistic executive development.
Share this article