The full report is available at this link.
The Texas Natural Resource Institute has published its annual report for 2017! Join us as we take a look back on some of our major accomplishments within the last year.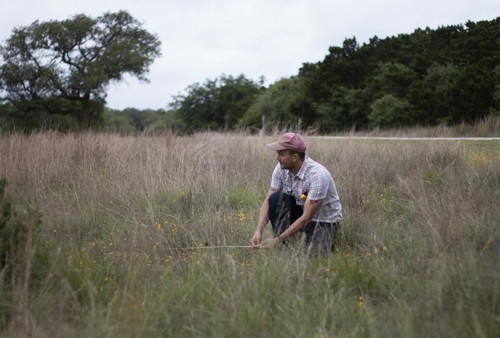 An NRI employee at work in the field. Photo courtesy of Leslie Lee.
First, we would like to extend our thanks to all NRI employees for their dedicated work this past year. Their efforts have furthered research, conservation, policy, and engagement, spreading the message of land stewardship across Texas and beyond. Proof is in the numbers: tens of thousands engaged through in-person programming and online presence, 29 graduate students supported, and more than 75 publications. Without the devoted individuals behind NRI, none of this would be possible.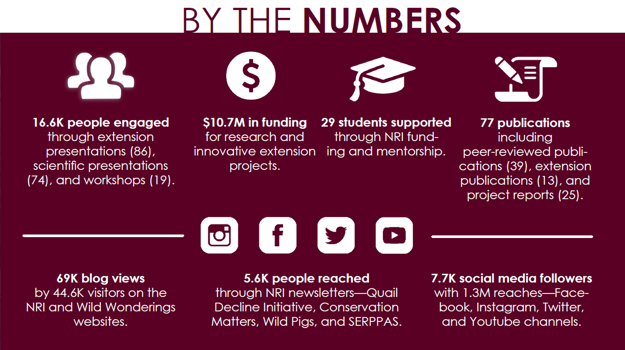 The 2017 report represents accomplishments by a variety of projects and teams, with several notable highlights. For example, NRI was influential in several Species Status Assessments (SSAs)—the scientific foundation for all aspects of the Endangered Species Act (ESA) which help determine listings, de-listings, and reclassifications. Our work directly informed SSAs for a number of at-risk species across the U.S. which include Key deer (Odocoileus virginianus clavium), red-cockaded woodpecker (Leuconotopicus borealis), and the Texas hornshell mussel (Popenaias popeii). NRI researchers have also been working on gopher tortoise (Gopherus polyphemus) translocation and monitoring due to their at-risk status as a candidate species under the ESA. Efforts to help the tortoise, which is threatened by rapid urbanization in Florida, have included the translocation of over 500 individuals in a cooperative project between NRI and Eglin Air Force Base. NRI also organized an ambitious data collection effort in the form of a statewide survey of private landowners. This information is currently being used by state and federal agencies to increase landowner engagement in stewardship programs.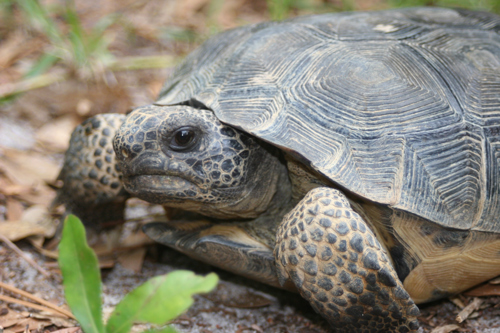 A gopher tortoise. Photo courtesy of the U.S. Department of Agriculture.
Again, thank you to everyone who has supported and contributed to the Texas A&M Natural Resources Institute. Our goal of solving natural resource challenges through discovery, stewardship, engagement and innovation would never be attainable without the hard work and dedication of our personnel and collaborations with you. We look forward to 2018 and the achievements to come.
Share this article