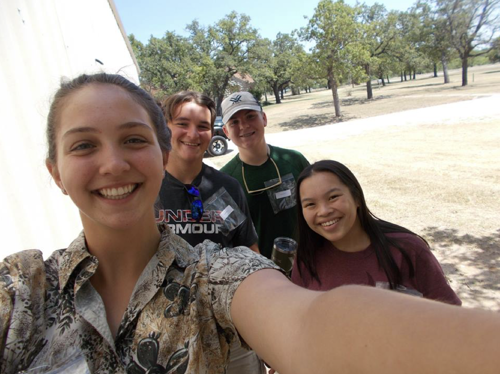 July, 2018
This past month, we focused on the future of quail conservation by participating in both the North and South Bobwhite Brigades leadership camps!
Take a peek below at what's inside and head over to the newsletter to get the scoop.
Hail Oh Hail Bobwhite Brigade! RQDI is proud to be a part of this program, which challenges kids to be conservation leaders. Here, some of our Rolling Plains cadets show off their bobwhite taxidermy.

Read about the program here.
We want Brigades cadets to be able to think like a quail, and for that you need PREDATORS. Here, a group of quail-hungry hawks and mammals poses after the "Run for Your Life" game in South Texas.

See more pictures on Facebook.
Celebrating Quail Dads
We hope everyone had a happy Father's Day! Did you know that bobwhite roosters are dads worth appreciating? It's estimated that 15-30% of bobwhite nests are incubated by males, which is crucial to their breeding strategy of multiple nesting attempts per season.

Learn more about re-nesting here.

Photo by N.C. Wildlife Resources Commission
"Spotlight on Quail Predators: Coyotes"
They eat eggs, they eat quail, and they eat...other quail predators. The first installment in our "Spotlight on Quail Predators" series looks at the relationship between these common canines and our favorite game birds. The short version: it's complicated.

Check out the article here.
This short video further explores the relationship between coyotes and quail.
RQDI at Wildlife 2018
We'll be back at the Texas Wildlife Association's massive annual convention with Kirby and our other personnel ready to greet you and answer questions at our booth. New this year: test your Quail IQ in our trivia challenge, with a chance to win a habitat evaluation softball! 
Topics for New Webisodes

These are the webisode topics we're looking at covering this summer:
How do fire ants affect quail?
How essential is fire and how often should I burn?
What are techniques for estimating fall populations?
What is the minimum recommended acreage for a quail management plan?
What part of the quail life cycle should we focus on to boost populations?
How can you effectively control for quail nest predators?
How can habitat be managed to sustain or increase quail during bust years?
What practices can open up areas dominated by mesquite or wintergrass?
Why don't pen raised birds survive?
How do you manage the number of birds harvested during hunting season?
What can be done to restore native plants once invasives have taken over?
What is the effect of off-season dog work on breeding birds?
We will pick 8 of these questions to be the subjects of new videos. Do you have another idea or want to endorse one of the above? Email us at
agobeli@tamu.edu!
Thank you all for your continued support! If you want the most up-to-date quail news, check out our social media accounts below.
Share this article