The Department of Defense's (DoD) Natural Resources Program (NR Program) supports the military's testing and training mission by protecting its biological resources. The NR Program provides policy, guidance, and oversight for management of natural resources on approximately 25 million acres of military land, air, and water resources owned or operated by DoD. The NR Program's goal is to support the military's combat readiness mission by ensuring continued access to realistic habitat conditions, while simultaneously working to ensure the long-term sustainability of our nation's priceless natural heritage.
One of the many resources available under the DoD Natural Resources Program is their newsletter Natural Selections, written and published by the Booz Allen Hamilton firm headquartered in Virginia. Natural Selections is DoD's top-tier communication vehicle for important work in DoD Natural Resources. Published quarterly, each newsletter chooses a different area of focus—the summer edition focuses on DoD accomplishments in endangered species protection and recovery, from Camp Blanding to successful recovery efforts. Articles are solicited as a means to spread best practices within DoD.
We are proud to have NRI's Tad McCall and Stephanie Hertz's integral work featured on page 7 in New Collaborative Initiative Kicks Off With Workshop to Recover Least Bells Vireo covering the joint effort called the Collaborative Wildlife Protection and Recovery Initiative (CWPRI), a voluntary, informal partnership among federal agencies and non-governmental partners to recover listed species and prevent new species listings.
In addition to McCall and Hertz's piece, NRI's Mike Marshall penned SSAs: A New Way of Conducting Business Under the ESA on page 8 explaining the critical value of SSAs as a biological risk assessment that provides rigorous scientific information to decision makers about specific species needs. 
With every edition comes highlighted projects and approaches that NRI assesses for implementation further fueling our progress through interdisciplinary and applied research.
Click to open the full issue below: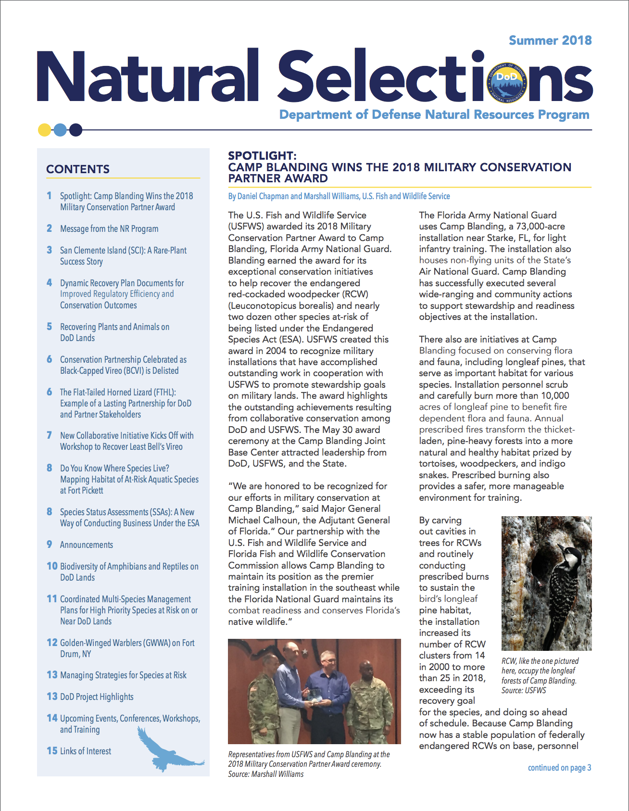 Share this article