Conservation biology and land management are research cornerstones at NRI, and we're fortunate to be able to build sound-science resources for private and public entities across the U.S. But it's no surprise when working lands comprise more than 82% of Texas's land area that our largest end-users are private landowners, working heuristically to solve natural resource challenges. 
We do know that thorough conservation is more than applied science and collaboration; it requires the stewardship of discovery and the constant observational loop, if you will, where we go back to the space of application and learn the sequence of science. So, instead of a Private Land Stewardship Lesson or a publication to aid in your efforts today, we're learning from landowners in a new series called "Landowner Loop", where we keep tools in the field and feedback loops open.
In 2015, NRI's Extension Associate Josh Helcel published D.I.Y. Game Feeder Corral Trap for Wild Pigs discussing how to construct an affordable, do-it-yourself game feeder corral trap. With the help of landowner Mike Reeser and his son Matthew in Evant, Texas, Coryell County, we're taking a look at how these methods can successfully be applied on the ground.
From Mike Reeser; Photos by Matthew Reeser
Our corral style unit has a 28-foot diameter and the gate is 4 feet tall and 5 feet wide. We used those generous dimensions so the unit didn't feel too cramped for the game. That proved to be a good idea. 
Our trigger system is an adaptation of your examples and has been successful and reliable. However, a unique feature we installed recently is an electronic remote-controlled trigger. It works just like a garage door remote so the trap can be tripped from our blind that is located about 125 yards away. This feature has proven valuable because we can capture a sounder before they hit the mechanical trigger. This electronic system is powered by a 12v feeder battery that is kept at full power by a solar panel installed on the top of the gate structure.
The latest addition is a second course of mesh wire installed on the inside of the trap. We found that piglets could squeeze thought our widely spaced panels, so the new thinly-spaced wire fixed that problem.        
I thought you'd like to see pictures of how you are impacting those of us who are working to reduce the feral hog problem in Texas. 
Here's why we built it: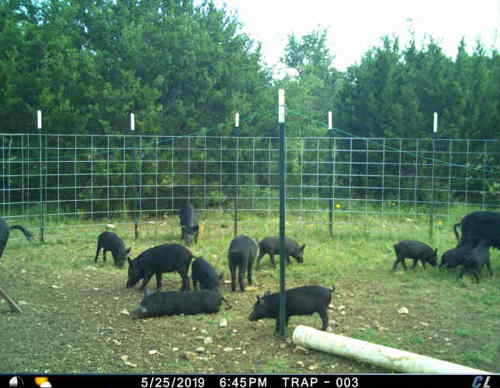 Here's a wide shot of the whole trap while it was under construction. The trigger is not yet installed in this photo: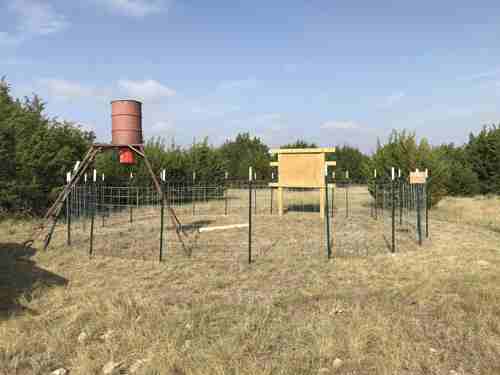 Here is the trigger mechanism. It's hard to see here, but the 2x2 board is actually a two-piece design with a hinge in the middle, like your example. A tug on the tripwire and the trigger will fold and drop the gate. Thanks to the physics of this cantilevered design, the amount of pull needed to trip the gate is very small. That's very helpful when the gate is as heavy as ours.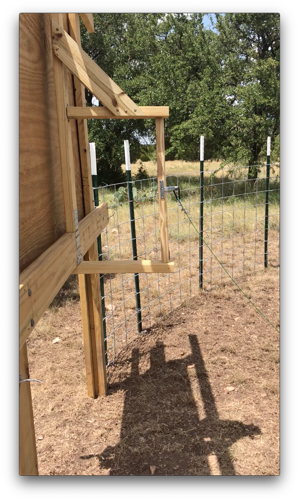 To make it easier to lift the large, heavy gate, there's a winch system to return it to the "closed" and "open" positions. It's on the outboard side of the gate and is shown here in the "open" position. After the gate falls, the hook is moved to the attachment point on the panel itself where it lifts the panel easily back up to the "open" position.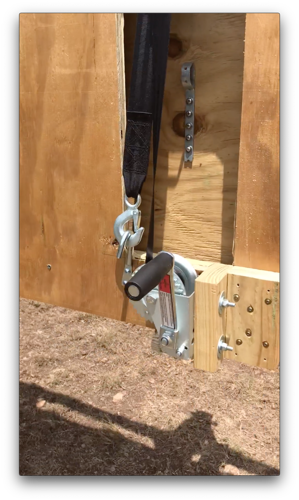 Here's a wide shot of the open gate while it was still under construction. The electronic remote-controlled trigger is not yet installed.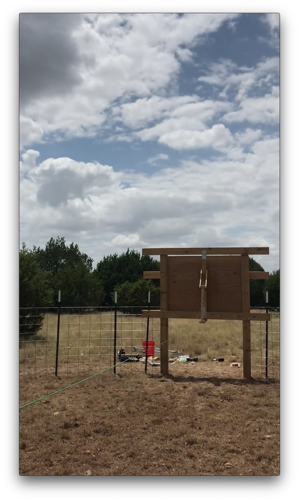 Finally, here's the gate in the "tripped" position: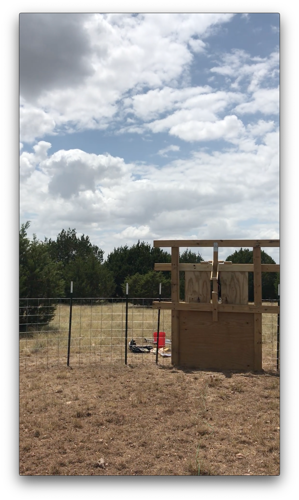 Here's the newest addition, piglet barrier: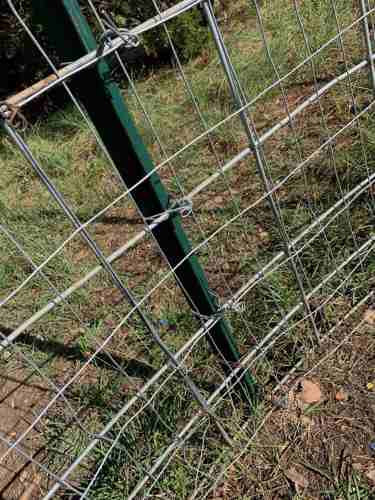 --
Share this post
---
Learn More