This year's EarthX Dallas conference, held from April 26-28, was a success for Texas A&M AgriLife Extension and NRI's Reversing the Quail Decline Initiative booth. Kirby quail and Bonnie Blue, our quail education ambassadors, greeted conference attendees with cheerful calls that welcomed the attention of diverse crowds. They provide visitors with the opportunity to interact with live quail, test their ability to identify different quail species, and gain a deeper understanding of the plight of quail populations in Texas.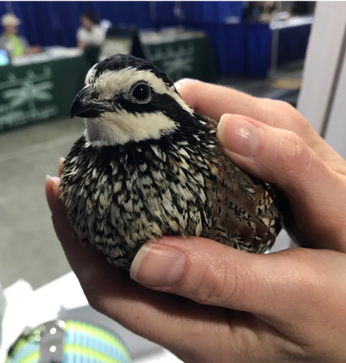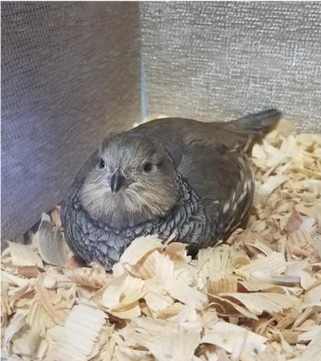 Kirby, the male northern bobwhite (left), and Bonnie Blue, the female scaled quail (right).
Attendees also had the opportunity to learn about potential quail predators at our display of furs, skulls, and paw print molds. Mammals such as coyotes, skunks, raccoons, and foxes all potentially predate quail or their eggs, and can also thrive in urban areas like Dallas. This provided a valuable hands-on learning experience for all ages to learn about both quail predators and their own potential backyard visitors.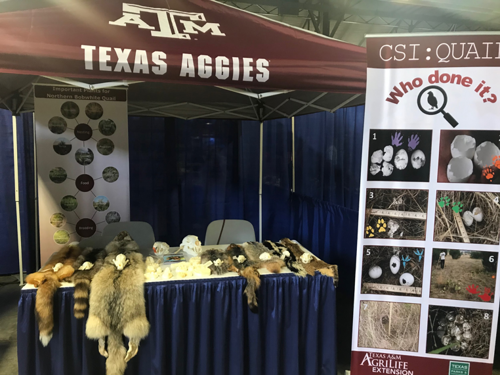 The skins and skulls table provided a hands-on experience for attendees to learn about potential quail predators.
The Reversing the Quail Decline Initiative booth, which was overseen by Extension Associate Amanda Gobeli, also had the honor of winning "Most Attractive" booth at EarthX. Thank you to all attendees who visited our booth, grabbed a "stress quail" toy, got information about the upcoming Statewide Quail Symposium, or signed up for the RQDI newsletter. We appreciate the support and hope to see you next year at EarthX 2020!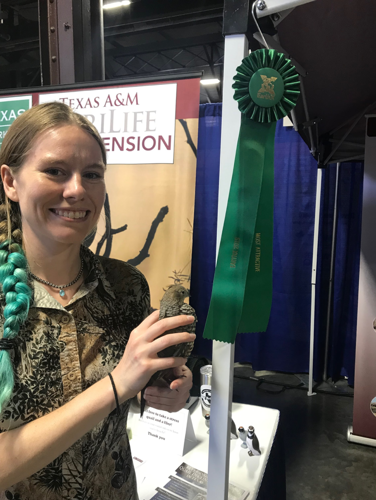 The Reversing the Quail Decline Initiative won "Most Attractive" booth at EarthX 2019.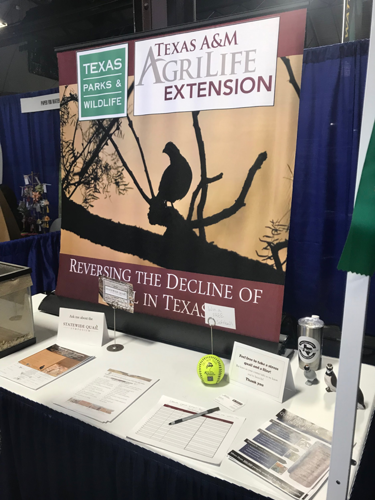 The RQDI booth was full of handouts, coloring books, free "stress quail", and an opportunity to win a free SHET softball.
--
The Texas A&M Natural Resources Institute grants permission for authors, readers and third parties to reproduce and republish materials from its blogs, publications and online products through permission requests to NRI Communications at nri@tamu.edu. This includes the use of figures, maps, photography and video media. If you have questions about permissions, please contact Brittany Wegner.
Share this post
---
Learn More