A quick trip through Texas history reveals momentous decisions, which formed the state's settlement, culture and landscapes we know today. Through unique circumstances, Texas entered the United States with its land remaining as property of the State. To encourage family settlement and aid economic development at a time when its remote lands were largely unsettled and the population considerably low, the state began distributing land through various means, such as land grants and low sale prices. These strategies proved successful and by 1900 the state had disposed of the majority of its acreage, leaving around 95 percent of Texas in private ownership today.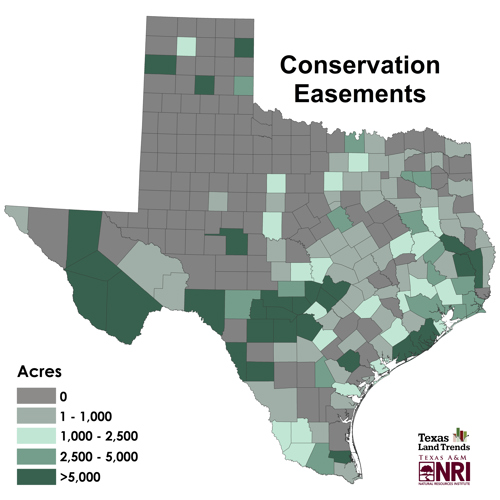 Private lands under conservation easements by county, 2018.
Of Texas private lands, 83 percent is classified as working lands, which play a critical role in the state's wellbeing and value—producing food and fiber, supporting rural economies, creating recreational opportunities, and providing intrinsic benefits, such as wildlife habitat, and clean air and water. Protecting and sustaining these natural resources and benefits is complex, but must ultimately factor in private landowners who act as the main stewards of the state.
Our latest Texas Land Trends report examines conservation easements, an important tool that can complement both landowner and public needs. A conservation easement is a voluntary agreement between a landowner and a land trust (a qualified non-profit) or government entity, where the landowner aims to minimize intense development of their property by selling or donating certain property rights. This tool is ideal for all parties since the land and it's productive, natural and cultural qualities are protected in perpetuity.
State investment in conservation easement programs, such as the Texas Farm and Ranch Lands Conservation Program (TFRLCP), leverages funding from federal, local, private, and non-profit sources to purchase conservation easements. By combining funding sources, state dollars can go further in protecting more land and the economic return of invested state monies is maximized through continued ecosystem services that would be costly and difficult to duplicate.  
I will leave you with a few report highlights on the benefits of conservation easements in Texas and the potential for expanding the use of our state funding to garner federal support to conserve more acres in the state:
Using three broad categories, agricultural production, water and wildlife, we analyzed the potential annual economic value private lands currently under conservation easement. These numbers help illustrate the tremendous economic value of conserved lands. Our map of the month describes the distribution of these lands across the state.

$63.1 million in agricultural commodities
$207.4 million in water replacement cost
$5.8 million in wildlife consumptive uses
Texas has significant potential to compete for many federal program dollars due to the state's robust agricultural industry and military presence alone. States with smaller or similar presence in both categories have better utilized their state funds to acquire federal funding from these programs.

Agricultural Conservation Easement Program

Texas has the largest percentage of agricultural lands available to protect in the U.S. with over 142 million acres of privately owned farm, ranch and forest operations. These operations contribute approximately $100B to the food and fiber sector annually.

Readiness and Environmental Protection Integration Program

Texas has a large military footprint, supporting over 500,000 acres of land and spanning all five military branches. These installations not only support vital missions necessary to the nation's security but also account for employment of over 224,000 people.
To see the full report, check out our Texas Land Trends website at txlandtrends.org!
--
The Texas A&M Natural Resources Institute grants permission for authors, readers and third parties to reproduce and republish materials from its blogs, publications and online products through permission requests to NRI Communications at nri@tamu.edu. This includes the use of figures, maps, photography and video media. If you have questions about permissions, please contact Brittany Wegner.
Share this post
---
Learn More