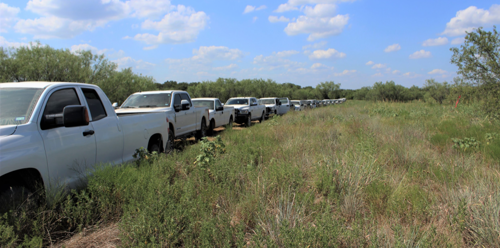 A line of white pickup trucks at the field day on the MT7 Ranch.
The much anticipated 2019 Statewide Quail Symposium kicked off with the August 14th field day located at the MT7 Ranch in Breckenridge, TX. More than 140 attendees joined a caravan of white pickup trucks to learn from habitat management experts at the MT7, including several members of the ranch's management team, Texas A&M Natural Resources Institute (NRI) professionals, Natural Resources Conservation Service (NRCS) representatives, and others. The caravan toured three primary management areas on the property focused on Texas wintergrass (Stipa leucotricha) control, quail habitat creation, brush sculpting and native grass reseeding.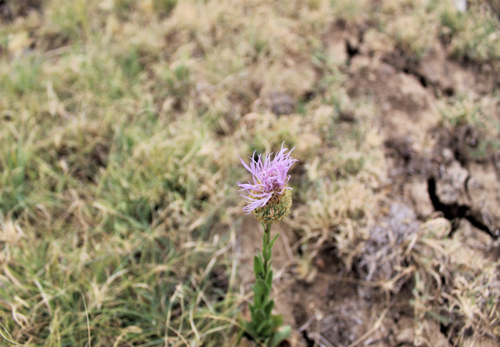 American basketflower (Centaurea americana) is one of the many quail-friendly plants found on MT7 Ranch.
With each stop, MT7 Ranch Manager and Symposium Committee Chair Ty Bartoskewitz discussed the management techniques implemented and the outcome of those efforts, including a firsthand demonstration of his grubbing technique. Instructors and QuailMaster volunteers also pointed out key plants for quail at each location to help students improve their plant identification skills. At the final stop, Amanda Gobeli, Texas A&M NRI Extension Associate and Symposium Coordinator, shared the Softball Habitat Evaluation Technique (SHET) and led attendees in a real-time demonstration of this and other methods for measuring the quality of quail habitat. A rainwater demonstration by NRCS showing the difference in water retention between vegetated and bare ground rounded out the day.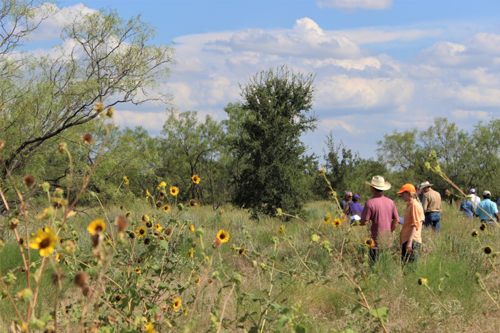 Attendees practiced the Softball Habitat Evaluation Technique (SHET) at the field day on MT7 Ranch.
The Symposium continued over the next two days at the MCM Elegante hotel in Abilene, TX. Over 20 speakers shared their expertise with more than 220 attendees, speaking on a variety of topics including the importance of hunters and hunting recruitment, the impacts of cattle, predators, vegetation, and oil & gas on quail populations, and the relative importance of management compared to annual rainfall in influencing quail populations. Panels of experts provided landowners with practical ways to solve issues quail may face on their properties through question and answer sessions, with a key focus this year being "cows and quail" and the challenges of managing for both. Take a look at the following photos to see a few of the highlights from this year's Statewide Quail Symposium: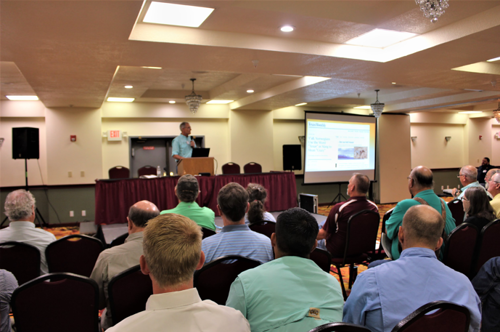 Over the final two days of the Symposium, experts presented the current research on the status of quail in Texas and many management recommendations aimed at increasing quail populations.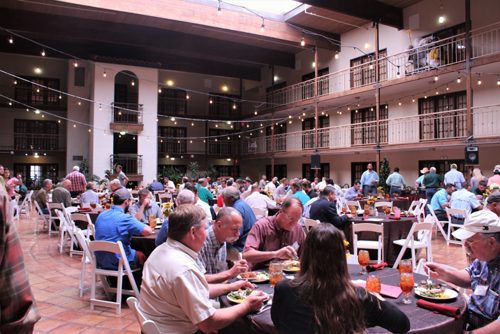 The MCM Elegante provided an excellent catered lunch on the second day of the Symposium.
Carter Smith, TPWD's Executive Director, spoke during the day two luncheon and brought attention to the contribution that hunters and land stewards have on wild animals in wild places.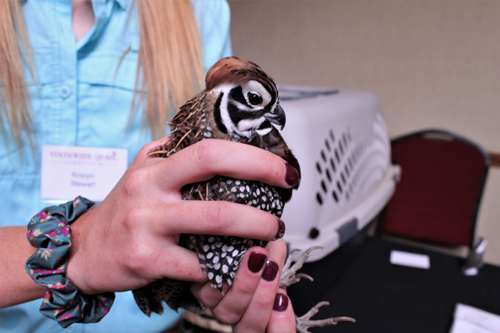 Kristyn Stewart, a graduate student at Texas A&M University Kingsville, brought her two hand-raised Montezuma quail (Cyrtonyx montezumae) to meet attendees and spoke about her current research on the species.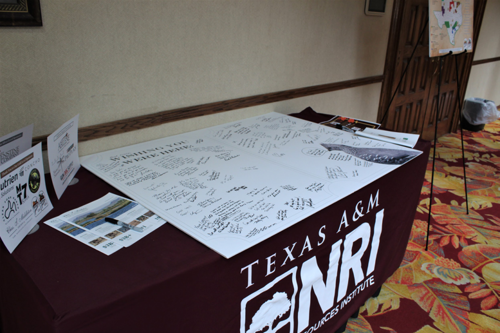 Attendees signed a get-well card for quail expert Dr. Dale Rollins, the project coordinator for the Reversing the Quail Decline Initiative, who could not attend due to illness.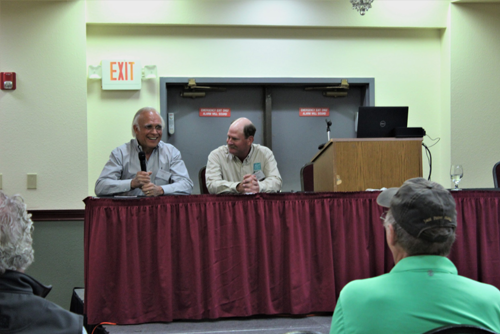 Expert panels fielded questions from attendees on management techniques for quail habitat. Pictured: Jim Willis, Wildlife Habitat Federation, and Jay Whiteside, TPWD, shared their experience of working across landowner boundary lines to increase management areas.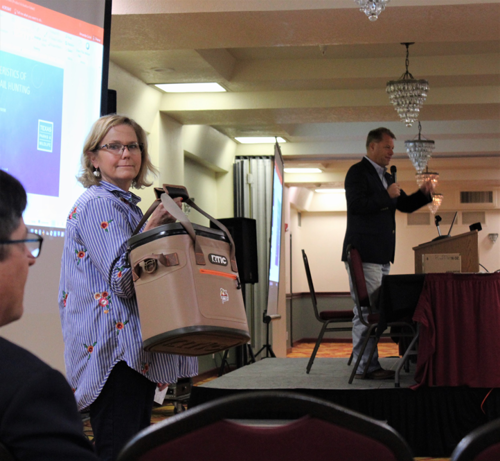 All attendees were entered to win one of over 40 door prizes donated by generous sponsors.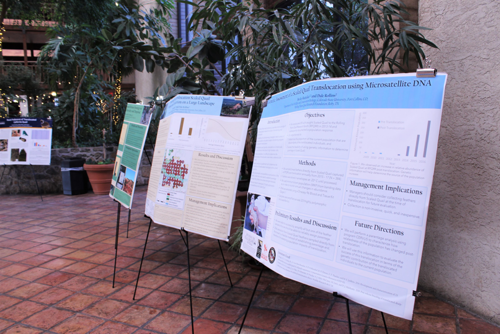 Posters of current quail research were displayed for viewing during breaks.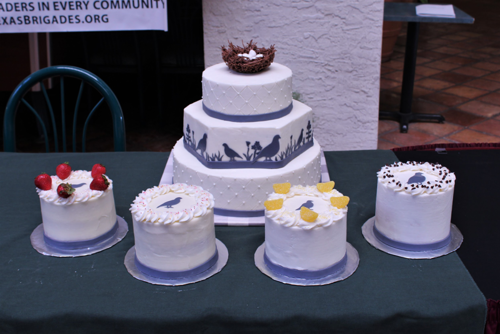 A custom quail cake was provided by the Big Country Texas Master Naturalists to celebrate the end of a great Statewide Quail Symposium.
Special thanks to all our generous sponsors!
GOLD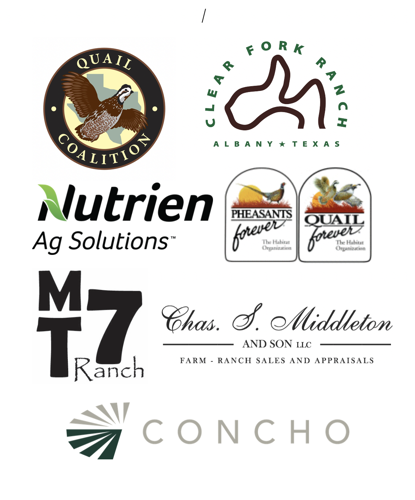 SILVER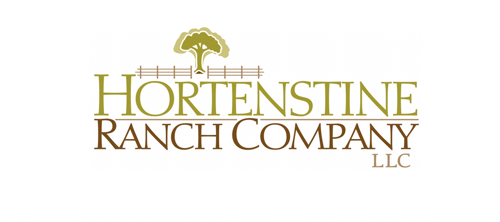 BRONZE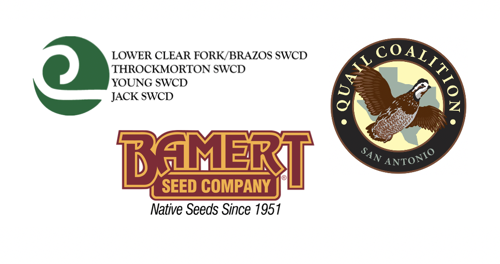 Share this post
---
Learn More