If you haven't made it by the Biodiversity Research and Teaching Collections facility, you've probably never met Drs. Wade Ryberg and Toby Hibbitts in their element among stark white drawers holding voucher specimens from around the world, the waft of ethanol and thousands of jars of meticulously curated specimens—like something out of a classic science-fiction film from the late 70s. Ryberg and Hibbitts are two of Texas A&M Natural Resources Institute's (NRI) research scientists whose work includes diagnosing and resolving complex problems in conservation biology with a focus on herpetology to be applied to natural resource management solutions. As with most scientists, their work derives from a passion to understand, to explore and to make an impact in their field. The work-life balance of a scientist is quickly translated to work-life integration where traces of their passion can be found out of the lab, acting as more of a fulfilling extension of their life.
Just is the case in a bittersweet interview with Ryberg recently, who spent the last quarter wrapping up his service as the Texas Herpetological Society's president and transitioning into a new role as treasurer. Ryberg gave us a peek into the world of Texas herpetology reflecting on years of progress and inspiration made by the society's membership. With his leadership coming to a close, he expresses that he's excited about new opportunities for the society, emphasizing the importance of fellowship, and of garnering different perspectives by weaving external influences from members' independent networks into the society's overall potential.
"We're a society comprised of experts in the field, each of whom brings in their own networks over time, ultimately expanding our breadth and overall capacity to work together."
Ryberg reveals his unique perspective on the existence of mutual relationships that live beyond the turned-over rocks and sand dunes where you'll find many of his study subjects. All over the world, evolving relationships constantly increase the footprint of our knowledge, wisdom, and insight through grassroots efforts of citizen scientists whose priceless learning opportunities grown over time cannot be replaced by any controlled research.
For some, Ryberg explains that the historical Texas Herpetological Society embodies an organization comprised of those every day experts in the field. For others, this is a legacy society, handed down through generations to continue purposeful work through partnerships with agencies, scholarships for research students and boots-on-the-ground experiences.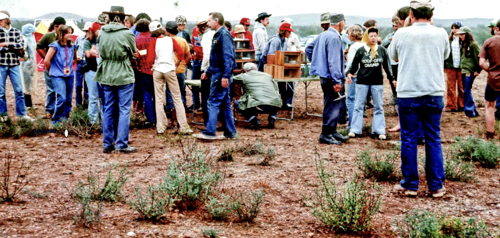 "Traditional herpetology photo session"
1975 Texas Herpetological Society Spring Field Meet, Desi Trevino Ranch near Laredo, Texas in Webb County; Photo by Don Miller.
"Every year, among other annual initiatives, we take a field trip in the spring with this incredible group of people ranging from serious hobbyists to industry folks and agency biologists to university students and professors. Now, I guess you'd call it a tradition; to give you an idea, the society only missed field trips because of WWII back in the day. It's inspiring to know how far we've come and how far we have still to go for future generations." Ryberg's vision for the Texas Herpetological Society resonates with members who are looking for more effective ways to stay connected as we witness this pendulum swing from the ways of connectivity and collaboration for long-time members to the hyper-digital, younger affiliates. But regardless of the changes that technology can offer to the society today, the fundamentals stand the test of time.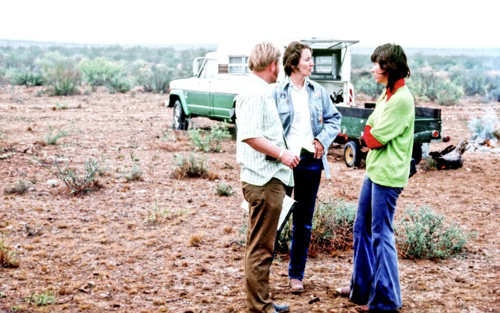 Webb County, 1975. Ed and Ann Stephens (left); Photo by Don Miller. 
For this society, lifetime members like Terry Hibbitts, Toby's father, are paramount to the legacy of irreplaceable relationships that keep the study of herpetology and dissemination of knowledge alive by keeping citizen scientists well-versed through resources like the Hibbitts' family collection of published field guides. Mr. Hibbitts, like many others, brought along his two sons, who some might recall still in diapers toddling around, to allow them the exposure to great minds in the field collaborating to promote discovery, conservation and relationships. Mr. Hibbitts singlehandedly crafted a family heritage around the table at those annual meetings.
"I don't quite know where the society would be today if the Hibbitts family hadn't been there all along, because, after all, good things can fizzle out. The Hibbitts family cares about the direction and keeping our society focused and strategic. More importantly, they care about inclusivity." Ryberg expands on the foundation of inclusion from day one of the society; where we've observed in other societies that the direction is steered by one perspective and quickly becomes close-minded, eventually peaking in productivity with tapped out networks. Because of the inclusivity of the Texas Herpetological Society and the strategy behind an ever-evolving leadership, the potential and dependence on those mutual relationships is never found wanting. 
From Ryberg's NRI lens, this society stands as a reminder of how valuable external networks are for growing the institute's expertise and positioning scientists as thought leaders in their fields. "There are real, tangible projects where societies have catapulted results and shaped impacts for research," Ryberg explains, "The citizen scientists uncovered in these relationships outside of the institute's walls are so critical to the application of research…I can't say that enough or believe it more wholeheartedly as a scientist myself, and I'm so grateful that our institute values those external experiences."
Without honest collaboration, a firm handshake and a common goal, we have to ask ourselves where the institution of research would be in today's world. These mutual relationships in the wild are oftentimes the cactus to our lizard—bridging possibilities with impact.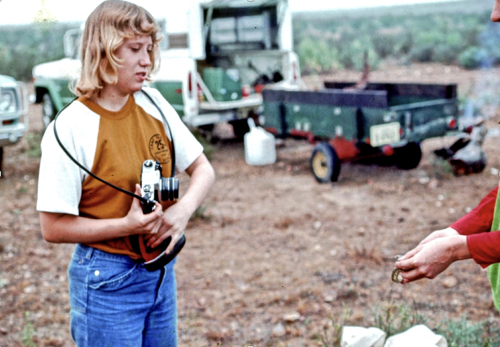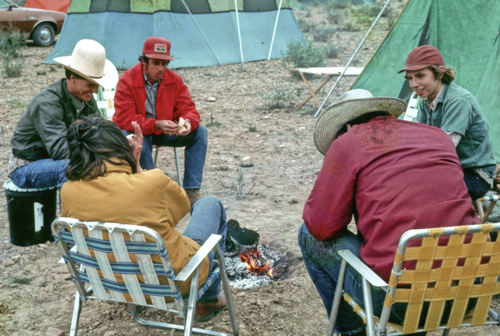 Collecting and discussing specimens at the 1975 Texas Herpetological Society Spring Field Meet; Desi Trevino Ranch in Webb County, 1975; Photos by Don Miller. 
---
For more information about the Texas Herpetological Society, contact Dr. Wade Ryberg or Dr. Toby Hibbitts.
Share this post
---
Learn More