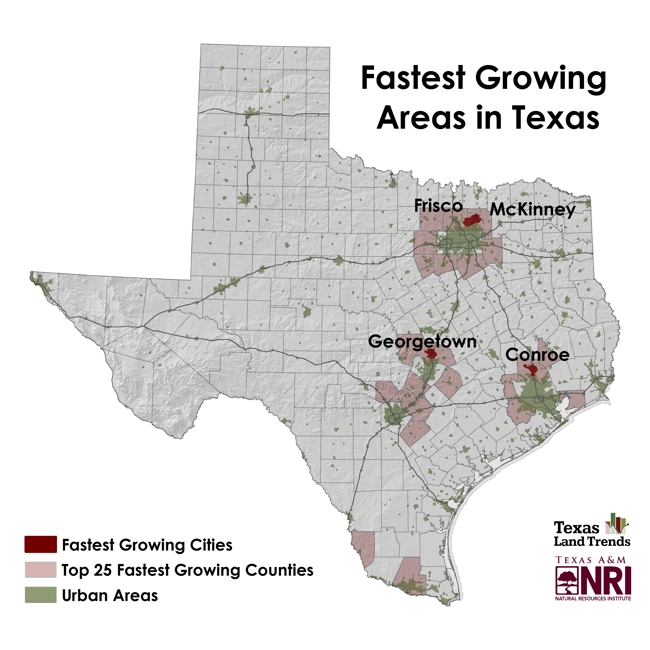 Map by Kevin Skow, Geospatial Manager, Texas A&M Natural Resources Institute
Texas a century ago would be nearly unrecognizable to many of us today, as most of the 3 million residents at that time were scattered across a rural landscape, mainly working as farmers or ranchers- Que the quintessential Texas image of cowboys galloping across the prairie. Today's snapshot would look more like a big-city scene, complete with skyscrapers, large city centers and endless neighborhood developments nearby. Our population has increased to nearly 28 million (2017 U.S. Census Bureau population estimate), or for a mental image, about 105 people per square mile, as opposed to 11 people per square mile in 1900. One of the biggest changes from a historic context; however, is the significant congregation of residential development, deviating from the traditional wide-spread settlement of the state. This is especially evident when examining urban areas that fall within the "Texas Triangle," an area that boasts approximately 66% of the total population and about 80% of the state's population growth since 2000.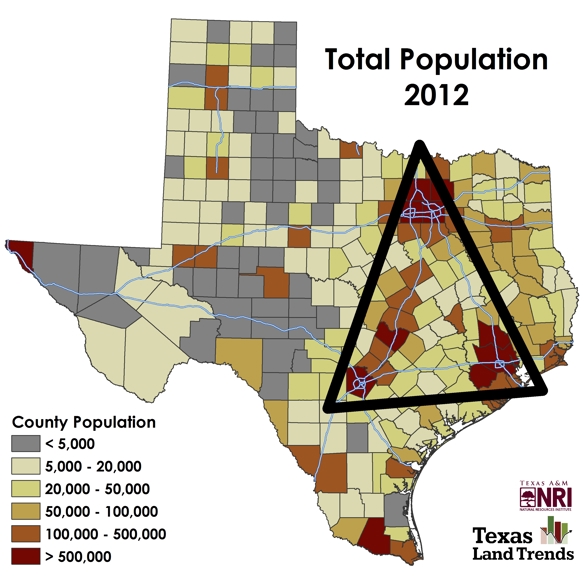 Map: Total population by county (2012)
The U.S. Census Bureau has taken notice of this rapid growth, reporting that Texas holds 4 of the top 5 fastest-growing large cities (populations ≥50,000) by percent in America. While assumptions may pin major cities (i.e., San Antonio, Austin, Dallas and Houston) for holding these titles in Texas, it's actually their neighboring towns and cities gaining residency momentum:
Conroe, TX (7.8% increase)
Frisco, TX (6.2% increase)
McKinney, TX (5.9% increase)
Greenville, NC (5.8% increase)
Georgetown, TX (5.5% increase)

Photos: Time lapse of a 100-square mile area in McKinney, Texas depicting the rapid development spurred from population growth (1981, 1996, and 2017)
Our featured map this month shows the location of the top fastest-growing large cities in Texas (also in the top 5 of the U.S.) along with the top 25 fastest-growing counties in the state, all of which occur in immediate proximity to major state urban centers. These growth patterns are generally attributed to new job market opportunities, better school systems, and increased access to living amenities. As big cities run out of space, new development pushes outward to nearby areas, creating an expanded conurbation. This phenomenon, often coined urban sprawl, is frequently mentioned but perhaps easily over looked for those of us residing in areas which have already been "tapped out" for development.
So, what does this mean for the future of Texas? Based on current Texas Land Trends data, we can expect to see continued growth in areas within and surrounding the Texas triangle. City and county leaders should recognize projected population increases and prepare for anticipated transportation, water supply, education, and health needs for fast-developing communities. Using trend data also can help target areas where land conservation actions may be best served, as seen in the proactive purchase of conservation easements over important aquifer recharge areas in surrounding areas of San Antonio. In this instance, smart conservation planning helps assure quality water sources for growing populations who are likely disconnected from the rural lifestyle once so common in Texas.
Share this post
---
Learn More