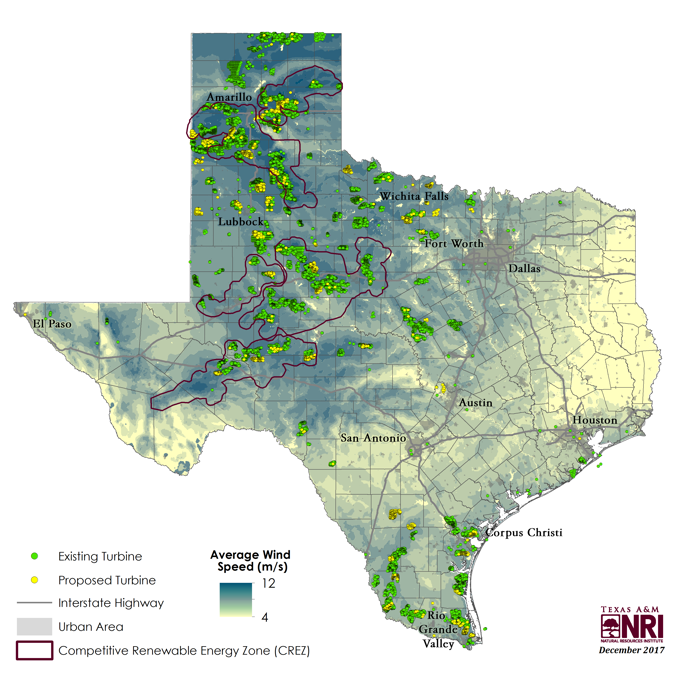 Map by Matt Crawford
Texas is the largest wind energy producing state in the U.S. In fact, as of 2016, Texas produced more wind energy than the next three highest-ranking states combined—Texas producing 20,321 megawatts (MW) versus Iowa, Oklahoma, and California producing 19,224 MW (Shapiro, 2017). With present technology, wind energy development requires average wind speeds of over 6 meters per second (m/s). Approximately 90 percent of the state yields average wind speeds exceeding 6 m/s and 60 percent of the state garners wind speeds in the optimal range of over 7 m/s, making Texas ideal for this energy production.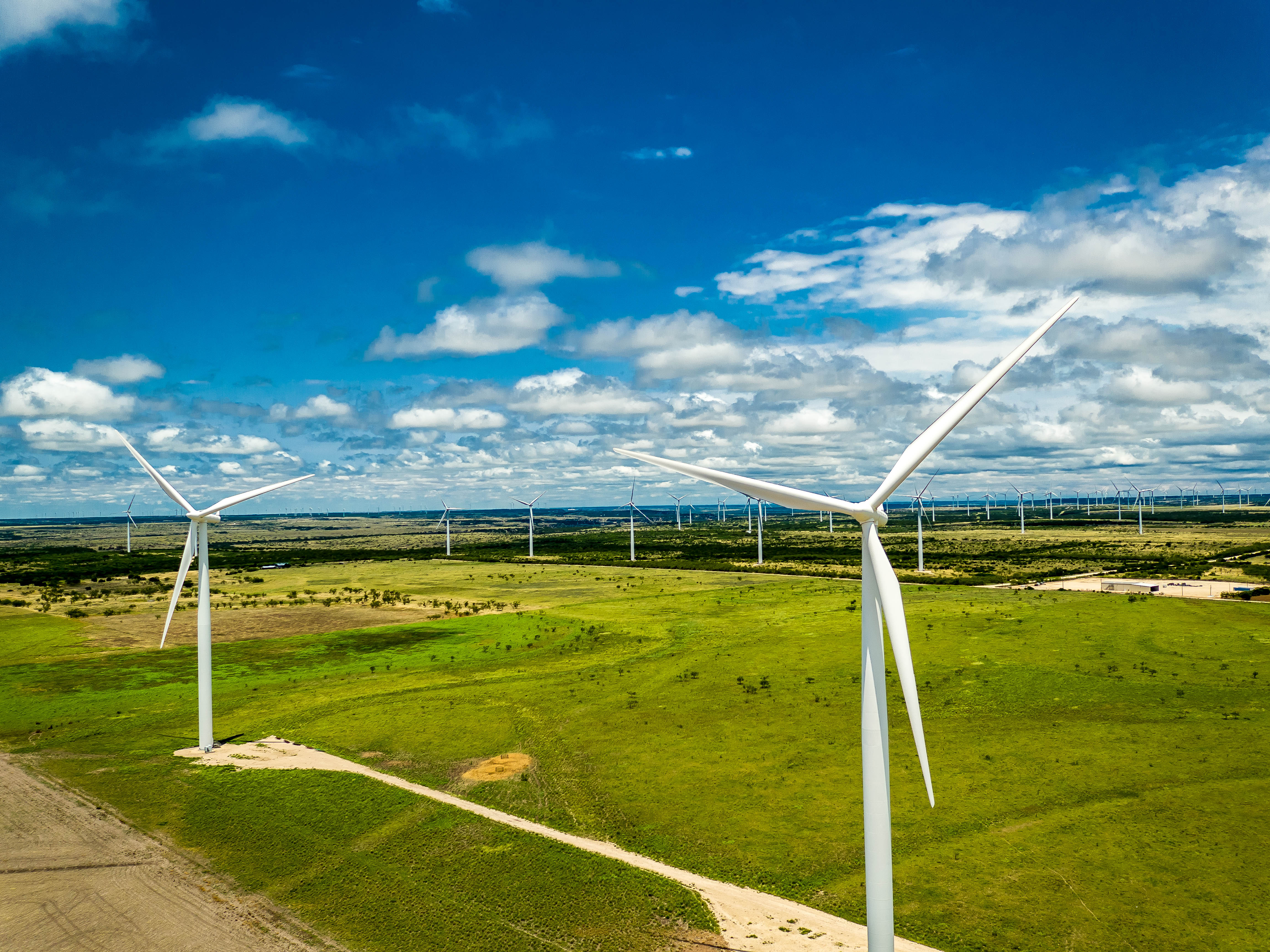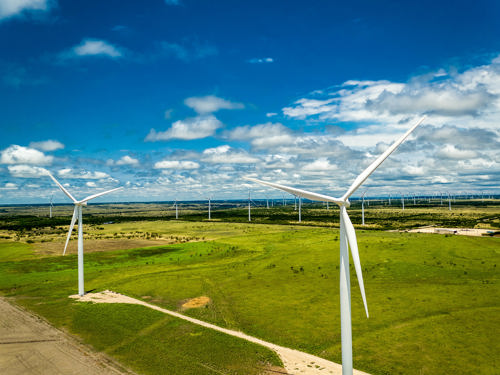 Photo: Wind farm in Nolan, Texas by Daxis
As the wind energy industry continues to expand, challenges of compatibility with other national priorities continue to be a consideration—including military training. Some specific concerns are obstruction hazards and the potential impact of weather and navigational radar interference with training operations. Recently, Texas lawmakers proposed legislation that will effectively limit construction of wind farms within a 30-mile radius of military controlled airfields and radar by eliminating tax incentives upon which these projects rely.
Photo: Wind turbine blades by Ian Gates
According to the latest Federal Aviation Administration (FAA) data, over 12,000 wind turbines exist in the state of Texas and in the Gulf of Mexico, almost double the number of turbines reported in 2010. When a wind turbine or wind farm is proposed, the FAA determines if the structure(s) will pose a threat to air navigation. Since 1991, almost 3,700 proposed turbines have been determined to be an air hazard, thus never constructed. Today, another 3,700 proposed turbines are still under review. This month's featured map depicts current and proposed wind turbine locations, and average wind speeds across the state.
Things to Know About Wind Energy in Texas
Wind power supplies about a fifth of Texas's electricity market.
Increased temperatures affect wind prospects across the state differently, potentially increasing conditions near the coastline while decreasing them in the Panhandle.
Wind gusts generally reach highest speeds at night, except for Gulf Coast areas which have bumps from afternoon gusts due to the pronounced temperature differences between the wind coming off the water and the land.
Harvey was the first hurricane to hit a U.S. wind farm (near Corpus Christi, TX).
Competitive Renewable Energy Zones (CREZ) are areas designated for renewable energy technologies to generate energy, which is then transferred via transmission lines to urban grids for use.
For more news like this, subscribe to our monthly newsletter Conservation Matters. 
--
The Texas A&M Natural Resources Institute grants permission for authors, readers and third parties to reproduce and republish materials from its blogs, publications and online products through permission requests to NRI Communications at nri@tamu.edu. This includes the use of figures, maps, photography and video media. If you have questions about permissions, please contact Brittany Wegner.
Share this post
---
Learn More